The Matrix
A small and fast Windows screensaver featuring the green "Matrix" cipher-code seen in the popular films by the same name, directed by Andy and Lana Wachowski and starring Keanu Reeves, among others. Optionally, you can add messages to be decoded and displayed in real-time. The color, size and speed of the green "rain" can also be customized.

Free

0.04 MB

for

Windows

221,935
Download
Screenshots
Files
Anti-virus
Help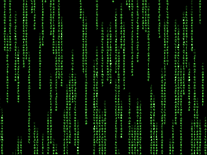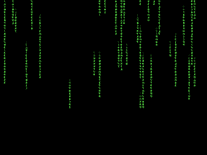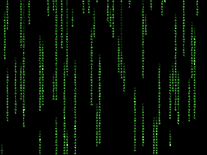 Message board
Is your question not listed? Post it on our message board »
Installation instructions
Microsoft Windows
Copy the "matrix.scr" screensaver file from the ZIP archive you downloaded to your Windows folder, then right-click it and select "Install".
Anti-virus report for The Matrix
Our editors have reviewed all files and found them to be safe, but they are also checked automatically using many different virus scanners. We are happy to share the results.
| Virus scanner | matrix.zip |
| --- | --- |
| AVG | |
| Avast | |
| Avira | |
| BitDefender | |
| ClamAV | |
| ESET-NOD32 | |
| F-Secure | |
| Kaspersky | |
| Malwarebytes | |
| McAfee | |
| Microsoft | |
| Panda | |
| Symantec | |
| TrendMicro | |
| Last scanned | 1 week ago |
We have 1 file for "The Matrix"
matrix.zip (Windows)
File report #1
File name
matrix.zip
Target system
Microsoft Windows
File size
44.31 kB (45,370 bytes)
File type
ZIP archive
Anti-virus
Detection ratio
0/14 (0%) View report
Popularity
Total downloads
221,935
Last downloaded
32 minutes ago
File verification
MD5
eb197584ec15c51ad4e70eba731b9eb3
SHA1
3aee0563d70ad1598382d611a2b8156e6912ebde
SHA256
a706d0328509d210bb3a04a33fd0c6aa0b87f94b2a0d65048f002143b307bac7
User reviews (92)
not working
by ggg7 on September 25, 2023
NICE & EPIC!
by Leo on September 14, 2023
danke
by Güler on September 9, 2023
usarlo como protector
by Nick on August 14, 2023
I absolutely love this screensaver!
by Edward on August 13, 2023
Screensaver in SCR format!!! Work with out problem in any Windows.
THX! Super
by Oleg on July 18, 2023
Its the best
by Hazieq on June 27, 2023
Great screen saver.
by Alex on March 25, 2023
brilliant thankyou
by jon on March 9, 2023
fanastic. simply copy to windows\system32 folder and restart. you will find the matrix screensaver option inside screen saver settings window.
by fh on January 20, 2023
NICE
by KRISH on January 9, 2023
I wanted to pretend to be in the matrix, googled "matrix screen saver". Followed the instructions and boom, I was done. I was little skeptical at first as I was reading a few comments that mentioned they were unsuccessful and faced some wrong turns. I am not a computer expert, but this has to be the easiest setup ever. I also have a couple of malware and virus protection software and did not detect any foul play.

If you are a TLDR type person. READ HERE. (follow and READ instructions.)
"Simple to install if you take the time to read the directions and follow them."
by Guillermo Barrera on January 8, 2023
Great! Works as intended! Downloaded to my Downloads folder at first, and then the Readme says to just place it in the windows directory. So I did, went to my screensaver settings, and it pops up right in the dropdown menu! The options are perfectly simple to mess with, and it looks legit! Matches my faux matrix rain idle colors on my SteelSeries keyboard. Thanks for the simple, and easy/user-friendly work!
by Erik on January 2, 2023
Excellent. And I like it because it installs into the Windows screensaver settings. Just fabulous!
by James Anonymous on December 23, 2022
It's mighty fine!
by Amandi on November 19, 2022
Make colors bright please
by Jason mauleon on November 15, 2022
A very nice screensaver, the 1st Matrixreste an event.
Easy to install, you unzip the file, then right click and choose Install.
by Herve on November 5, 2022
Terrible, you have to hack the matrix to get it to work. Needles to say it does not work unless you do several things to your files, and if you can follow the steps provided that are entirely inaccurate and unhelpful. You can't just download and select in settings. An install sequence of a path of installation would be greatly beneficial.
by x on November 5, 2022
Install option not showing!
by codeSyre on August 16, 2022
This is a really cool screensaver, works great for Windows 11.
by Clarissa on July 18, 2022
Great job!!
by Kosala on June 3, 2022
Impressive Work Sir!
by Natasha on May 30, 2022
work fin with 2 screen and we can add a massege, GOOD WORK
by bolbol on May 12, 2022
Freaking awesome
by Zeus on April 28, 2022
Like it
by Ratha on March 10, 2022
The author has a newer version on his site which is as good as this, but has some extra features.
by NanotechnicianHQ on February 23, 2022
perfect
by HARRY on February 11, 2022
work with multiple monitors
you can change speed,color, density, font size, and put a secret word that will sliglty appear on the screen,
by computer guy on January 21, 2022
I'm running a 38 inch curve at 4k resolution and this looks so damn good and the fact that there are settings for this screensaver makes this much more than just a plain screensaver. Easy to copy into the windows system32 folder and works like charm! Thank you
by Mark C on January 4, 2022
This screensaver is great! Simple but yet fully functional.
by Ray on December 24, 2021
Very customizable.
Uses around 12% CPU and 12% GPU at most.
by John on December 23, 2021
It works. Thanks a lot! Could you please also provide some help for using thise screensaver as a desktop background?
by Paul on November 16, 2021
I Love it Thank You
by Andrew on November 3, 2021
Something is "weird" with it, as after installation and tweaking to get it as i wanted it, all seemed fine. Though after reboot it's gone, the file itself is gone (except the downloadzip that i saved elsewhere) and the screensavers are off (got a different set than i had before, and no the matrix one isn't one of them, it seems like the old standard ones, though I deleted the windows ones which now have returned and ones that i could use before have disappeared).
I doubt it's a blackhat (114.5k dl's) and IF it is, the guy/gal is in for a suprise, was deemed a soft target at some point ages ago, had TAO in my network since (one of the "happy few" who got a SIGNINT msg). So if you're out there and this is malware of any sort - gl and i hope you make it out (note, not sarcasm).
Still 2 stars - for as long as it worked it looked as supposed and was well nice.
by Notanon on September 28, 2021
I am very impressed....!
by Phillip Gamble on September 12, 2021
Bit jerky on a 3 screen set up but a lot of fun to have, I need to watch the matrix again.
by b on August 15, 2021
Excellent!
-No install. just copy paste in Windows/system32
-Can have different colours
-Can change speed
by RS on July 30, 2021
simply perfect! no download huzzle, just a simple copy process, simple setting and best of all, it supports multiple display!!!!
by nemesis on June 25, 2021
Just great one.
Thank you.
by S.Sinan on May 24, 2021
pretty cool. straightforward practical and free
by user1 on May 1, 2021
Simply awesome !
by Alok on April 16, 2021
Great until it actually fills three screens, then it comes to a crawl.
by Justin on April 13, 2021
good
by ag on April 11, 2021
Pretty brilliant. thanks for sharing.
by Neo on March 22, 2021
Meh... I guess its ok.
by Somebody on March 15, 2021
Absolutely LOVE it :)
by Mozzie on February 27, 2021
It is soooooooooooo good I will download it.
by Fatehveer on February 23, 2021
i love this screen saver it is so cool because it's just like the movie that i have on dvd and it is so cool i love the way that it move's on my laptop computer thank you for showing me this screen saver i love it alot.
by lisa dreden on February 9, 2021
very good
by ProCluck91 on January 30, 2021
Has worked well and as advertised on all of my PC's (8) at the moment. I like being able to add your own message like but the words seem to come in random order. I wish you could have it appear in the order written. Simple to install if you take the time to read the directions and follow them.
by Chris on January 29, 2021
i wish you could have add options to change the colors. i love it coz it response so fast. thanks
by rafnex trent on January 23, 2021
I like it but hitting install brings up the screen saver option but I am unable to use it. It does not add the screensaver to the menu Please help
by Jeff on January 8, 2021
Cool screen saver!
by Mickey M. on December 30, 2020
The lines that fall on the matrix film have different speeds.
In this ScreenSaver the line speeds are exactly the same.
Apart from this flaw, ScreenSaver is good.
by João Vidigal on December 26, 2020
I like it
by zarko on December 24, 2020
its awesomeeeeee
by saint on December 22, 2020
I Really Like This Screen Saver It looks Really Cool & its Hard to Find a Good Screen Saver That Works Good With my monitor set up as i Run a 3+1 Monitors a 5760X1080 in nvidia surround for all my flight & Race Sims & a 1440p@144Hz For Every Thing Else all are 27' Panels & Like i said its a pain to find a good one that works & looks as good as this one and it Even let me add in the text The Matrix Has You or Follow The White Rabbit &again it looks really cool ..but then again im a bit of a matrix fanboy..lol.! I Just Want to say a Big Thank You to Who Ever Worked on this i think ya did a Great Job & Thanks Again !
by BigChew on November 23, 2020
Excellent!
by Graham on October 9, 2020
This one is awesome always wanted it so thanks again
by Jon Sandman FTS on October 3, 2020
Perfect
by Clay on October 3, 2020
es muy bueno... en comparación con otros que descargue. lo recomiendo.
by Luis Madriz on September 15, 2020
Looks great - reminds me of the first movie. Simple and no nonsense. Runs great on Windows 10, HP I5 laptop bought a week ago. Thank you for providing this awesome software for free. Neo would have wanted it that way.
by Patrick on July 16, 2020
how do i get this to work for my laptop windows 10
by Mr. Cesar on July 11, 2020
Good
by Someone on June 21, 2020
works great on dual monitor windows 10. coded message option available in settings. colour can be changed from green to other colours too.
by rawr on May 27, 2020
i love matrix screen saver
by chris nartey on May 23, 2020
It's blurry and all the numbers, letters and symbols are backwards.
by Mike on May 19, 2020
Super!
by Neo on May 8, 2020
cool
by hoho on May 1, 2020
cool
by nik king on April 21, 2020
Absolutely Brilliant :D :D :D
by Paul Kersey on April 17, 2020
Great!
by Szilárd Varga on April 14, 2020
I think it`s awesome, i`ve installed in the past and it works great!!
by Gulherme on April 14, 2020
its so nice
by noor shraf on April 13, 2020
This screensaver is awesome, but then the speed setting that can set to slowest, it is still way too fast, and the font that can allow is too small.....
any kind soul out there can improves it?
by Eric Ho on March 9, 2020
nice
by simon on March 2, 2020
Amazing, thank you.
by Emjay604 on February 5, 2020
Just like the real thing! I half expect agent Smith to knock on my bedroom door. Try the 3D Matrix too...
by Gregory Romero on February 2, 2020
AWESOME!! LUV IT!! Thnx for creating!
Really like the settings for speed and density! Gr8 customizations!
by PCSolid.com on January 24, 2020
great
by my name on January 6, 2020
Great screensaver! Works beautifully with my multiple monitor setup. Even sent it to my brother to install!
by Nick on January 5, 2020
YES
by SUNIL YADAV on December 25, 2019
Love it, one of the first things I install on a fresh machine
by Dan on December 16, 2019
Works great on Win 7 and three monitors
by Fenton Queue on November 27, 2019
Works great on my windows 10 64 bit w/ multiple screens.
by D BROWN on October 9, 2019
Does not work with multiple screens :(
by Neo on September 5, 2019
I loved it, it's just beautiful and customizable.
by Dvini on May 11, 2019
It's pretty good
by Tretus on May 1, 2019
Ok this seems to work...;)
by Jason on December 23, 2018
This Matrix screensaver is only 90k and runs efficiently. It has a good selection of settings. I copied the matrix.scr file to my C:\Windows\SysWOW64 folder and it runs fine in Windows 10 64-bit. Multiple monitors are supported. This is a good choice.
by Ben on October 25, 2018
Great screensaver. Tons of settings. Absolutely get this if you're looking for a Matrix screensaver.
by Anon on May 5, 2017
This is an awesome screensaver. It's free, has support for multiple monitors and has a wide range of settings to change, including text color and font. I recommend this screensaver for those looking for a good matrix screensaver that has multi monitor support. Thumbs up from me!
by Anonymous on March 25, 2017
Write a review