Living Marine Aquarium 2
Version 2.0 of the Living Marine Aquarium screensaver features 18 animated species of fish and other sea creatures, from the Blue Hippo Tang and Percula Clown to a Sea Horse and Anemone Crab. It also includes three different aquariums that the screensaver rotates through. The quality of the graphics can be adjusted via the settings panel, where you can also customize the number of fish per species or select an aquarium of your preference.
Known issue: Support for Adobe Flash Player has been removed from Windows. This screensaver requires Flash only for the settings panel. The screensaver itself still works.

Free

5.9 MB

for

Windows

282,265
Download
Screenshots
Files
Anti-virus
Help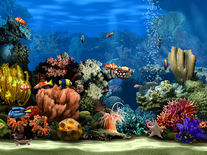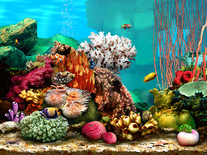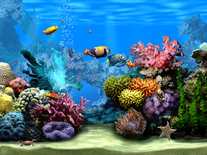 Message board
Is your question not listed? Post it on our message board »
Anti-virus report for Living Marine Aquarium 2
Our editors have reviewed all files and found them to be safe, but they are also checked automatically using many different virus scanners. We are happy to share the results.
| Virus scanner | LivingMarine2.exe |
| --- | --- |
| AVG | |
| Avast | |
| Avira | |
| BitDefender | |
| ClamAV | |
| ESET-NOD32 | |
| F-Secure | |
| Kaspersky | |
| Malwarebytes | |
| McAfee | |
| Microsoft | |
| Panda | |
| Symantec | |
| TrendMicro | |
| Webroot | |
| Last scanned | 5 days ago |
We have 1 file for "Living Marine Aquarium 2"
LivingMarine2.exe (Windows)
File report #1
File name
LivingMarine2.exe
Target system
Microsoft Windows
File size
5.90 MB (6,183,355 bytes)
File type
Portable Executable (EXE)
Anti-virus
Detection ratio
0/15 (0%) View report
Popularity
Total downloads
282,265
Last downloaded
14 seconds ago
File verification
MD5
aa71e704edebaf55886f3fa601c3daf8
SHA1
b352a3905504a4ad774e466b961b4632bb046f1d
SHA256
4f2e939f28c4a2d7cda8a8c823b409d6085113c7475f4c4330828dd3be81a147
User reviews (103)
very good
by Alaa on September 26, 2023
Bad, is only a loading screen, does not work and it uninstalled my other screensavers
by Lyra on August 19, 2023
Tres belle écran de veille
by JeanPierre Nadeau on August 17, 2023
I like the screensaver, but I can't run the Installer under Windows Vista Home Premium SP2 x64.
by Anonymous on August 16, 2023
Nice
by จุฬาภรณ์ โ on July 22, 2023
Beautiful and have sound like you were in the sea. Easy to install and apply.
by Panisara on June 11, 2023
did not work
by adian on May 27, 2023
Awful. Just freezes with no SS, only audio. It does work for a second displaying an ugly credits splash screen, then seems to crash/freeze. Forces taskbar to hide even though this is off in settings. This is on a high end PC with a 3070 video card so it should be able to handle it. I uninstalled this junk asap.
by R on February 19, 2023
its so nice
by tina leach on February 18, 2023
I LOVE IT
by MAHI on January 31, 2023
good
by maash on January 28, 2023
Crap, it crashes on windows 11 and only works briefly on one monitor
by Ilya on January 23, 2023
It seems to create a very nice and calm atmosphere. However, something seems to be missing.
by man on January 12, 2023
Truely one of the best.
by Chris Mcleod on November 23, 2022
Exception EOIeSysError in module settings.dat. at 0005AB2D. Class not registerd
by Darius on November 13, 2022
My Dad had the Mac OS 9 version running on our G3 Imac (back when screensavers literally were about saving you poor crt monitor from screen burn in), that one had the same fish tank configuration and also cycled between day and night. It's from the era where screen savers also played sound through the speakers, so if that isn't your jam be warned. Considering screen savers are now more a fun distraction, then anything functional. I personally I'm filled with nostalgia hearing the bubble turn away.
by doc brown on October 1, 2022
The settings will nor work on Windows 11. When clicking priview, the screen settings are too small.
by Brandon on July 23, 2022
visually nice but sound annoying with no way to switch it off without using the computer sound button
by mazza on July 15, 2022
Why this screen saver is not responding in given time as 5 minut etc,,,,,setting window Stays on Desktop And not moving any where,,, ,After restartting Pc its goes out,,,, on right click it asking Flash ware,, ,what to do Plz Assist...i Have Uninstalled one time but the same problem is there in next installation ?????? Plz Assist me thanks in Advance.
by Guru Sevak on July 7, 2022
This doesn't work well if you have two or more monitors hooked up to your computer.
by Stephen Mol on June 16, 2022
Watching these beautiful creatures ,listening to the bubbles offers you a nice feeling of relaxation and calmness .Simply beautiful. Thank you very much.
by Pascual Camper-Hellas on May 19, 2022
beautiful i love the water
by Glenda Rozier on March 28, 2022
Living Marine Aquarium 2 screensaver works for me in Windows 11.
While you can no longer change the settings via the screen savers settings panel (because Flash has been discontinued), you can manually edit the "settings.xml" file in the screensaver's installation folder ("C:\Program Files (x86)\Freeze.com\Living Marine Aquarium 2 Full\"). You will need administrator permissions on your computer, and most likely you cannot directly edit the file in the folder. Rather, copy the file to another location (like your Documents folder) and edit it there. You can use Notepad to edit the file. Rename the original "settings.xml" file to "settings_bak.xml", and copy your edited "settings.xml" file into screensaver's install folder.
Most of the settings which are not a fish can be either 0 (off) or 1 (on). The fish can be set to 0 (none) 1 (one fish) or a higher number for more fish. Some fish can only be 0 or 1. Experiment with the settings and don't worry. You can always start over with a fresh copy of the "settings_bak.xml" file if something gets messed up.
by EW on March 19, 2022
it didnt install the runtime files and wont run on my machine
by philip kruger on March 18, 2022
This is good for a free screensaver in 2022! Windows 10 here.
by Fire Thief on January 30, 2022
Crashes, prompts upgrade to paid version
by 3Ways on January 29, 2022
Nice screensaver. Has anyone seen the Sea Horse or was it excluded?
by Timothy on January 28, 2022
Very nice screensaver. Runs well on Windows 10 Pro at 1920 x 1080 resolution (16:9) despite not having that resolution set into it's initialization files. There is a glitch which my anti-malware (Emsisoft) hits on the installation directory of "..\Freeze.com," telling me it is a PUP. This is not the case as SSPlanet text support informs me.
by Bill on January 3, 2022
Relaxing...
by Paulo Costa on December 10, 2021
Is a very nice one. I had it some years ago and now I got it again.
by Jorge Coelho on October 31, 2021
ilove it
by johnosborne on October 11, 2021
good
by mix on August 4, 2021
wow
by nuwan on July 26, 2021
It will no install.
by Edward Stotts on June 29, 2021
Installers says Flash is required to use the screensaver, even though the Change Log notes say it is not. Wasn't able to install it.
by Jorp on June 15, 2021
sweet
by Jeffrey on March 17, 2021
I am not sure yet. I downloaded it but I am not able to install it due to the discontinuation of Flash Player. Do you have any additional information regarding Adobe Flash Player EOL and how I might still be able to try your screen saver?
Any information you can share would be very much appreciated.
Happy New Year!
Tamara
Screensavers Planet: Please refer to the two known issues listed in the description above for a possible solution to the Flash problem. Unfortunately, without Flash you will not be able to open the screensaver's settings menu, but the screensaver itself does not rely on Flash and continues to work (with the default settings).
by Tamara on January 2, 2021
Relaxing.
by Anna Harrison on December 28, 2020
Got a runtime error and I can't even uninstall the screensaver; it says "Could not find INSTALL.LOG file."
by Didn't work on November 21, 2020
Good, but it seems to support only one monitor (and only the main one).
by Alexander Lishansky on October 17, 2020
Love it
by Dory on September 29, 2020
This beast deserves some kind of medal. Last updated in 2004, I'm running it in 2020 and I scoffed when it said it was going to max out at 1024x768. An ANCIENT resolution. But to my surprise, this screensaver still looks STUNNING! Runs at 144fps on my 144hz monitor with beautiful 32bit color, the creature animations are subtle and immersive, really amazing for a 15+ years old piece of software to run this compatibly, and look as nice as it does. The 4:3 aspect ratio means there are black bars on either side of the screen but if you can forgive that this is much better than I expected. 1 star off for the aspect ratio
by Nicholas Carter on September 14, 2020
Exactly what I wanted, very pretty and easy to use, safe too. Thank you very much
by anon on August 2, 2020
if froze my computer and said "did not install is not responding"
by Harley on June 11, 2020
Like it.
by Steve on June 5, 2020
NICE
by kANS on May 18, 2020
I absolutely think this is amazing, such a nostalgic screensaver.
by Evan on May 14, 2020
very nice
by joe on May 2, 2020
It is so cool.
by Christine Schaeffer on April 24, 2020
cool
by bb on March 3, 2020
Great screensaver. Only the resolution is low.
by Lara on February 11, 2020
very well done.
by Rob Melancon on January 17, 2020
Running on Windows 10! cool yeah, thank you!
by Bimo on January 10, 2020
Very Good
by Satthapat on January 3, 2020
nice
by troy on October 17, 2019
Nature is good
by Sunil kumar on September 15, 2019
I thnk it is great
by aaron ginn on September 14, 2019
It wont uninstall. Says it cant find the uninstall.log file
by Jason Brandle on July 27, 2019
I love it! My son in law installed it last nite but put too many fish in and I would like to remove some ~ I know there is a place to choose but can't find it. Thanks
by Janice Mason on May 28, 2019
Good
by Aryo on April 25, 2019
Looks great on my 19" monitor, but on my large 50" wall screen it's tiny with no way to make it fit the screen.
by Fat Ninja on April 23, 2019
Awesome
by Enos Milate on March 27, 2019
I have been using this screen saver for a long time. It's nice to see it here for free now. It worked well on my 64 bit desktop computers, But will not install in a 32 bit tablet computer. Both running win 10. It is very pretty, And entertaining.
by Dan Lester on February 2, 2019
LOADS of error messages throughout, even though 'fix' downloaded. Was never able to get it to work/start. :O(
by BeaSotted on January 17, 2019
Make sure you read the "Know issue" in the above website description.
Follow info for repair of "Flash" and mine worked on Windows 10 Pro just fine.
This is a screensaver like, or maybe the same, that I had years ago on Win XP Pro when it first came out.
I read somewhere that there were different adjustments that could be made to the screensaver but I cannot figure out how. Anyone know for sure?
This is cool and kids really like the effects.
(just figured out the "settings panel".
Instructions should have stated "the Windows Settings panel for adjusting screensaver settings".
Who says you can't teach an old dog new tricks ... if they can read.
by Old Man Gramps on December 29, 2018
I love it, I don't have any pets, so these are the next best thing. XXXX
by CHRIS on November 14, 2018
Beautful
by Essie P. Ball on October 4, 2018
very cool
by bhavika on September 29, 2018
This has really old resolution and desperately needs an update. until then i dont recommend it.
by Soll on September 8, 2018
I have had this Screen Saver for many years and I love it so much. It is awesome with the date and time. I have enjoyed it SO much. To anyone who might be interested, I would highly recommend it. I will not put any pictures instead of this Screen Saver. I am hooked on it. It is SO beautiful! Mary August 27. 2018
by Mary on August 27, 2018
Looks good on initial install. I had to apply the Flash fix first and then after install got the Runtime error when trying to preview. Go to screensaver settings and check, I found the resolution, tank were not selected. Select as appropriate and the now preview works.
by Yern on July 12, 2018
It will not install on Windows 7, even after downloading and running the Flash fix
by Michelle on April 20, 2018
good
by Isidro L. Buenaobra on March 30, 2018
good
by louise on March 28, 2018
●►At first, all I could give this screen saver was less than one star.
I couldn't use it at all on a brand new custom built computer.
●► Some Hardware specs:
Board: Gigabyte Technology Co., Ltd. AB350-Gaming-CF
Serial Number: Default string
Bus Clock: 100 megahertz
UEFI: American Megatrends Inc. F6 08/21/2017
3.20 gigahertz AMD Ryzen 5 1600 Six-Core
576 kilobyte primary memory cache
3072 kilobyte secondary memory cache
16384 kilobyte tertiary memory cache
64-bit ready
Multi-core (6 total)
Hyper-threaded (12 total)
16336 Megabytes Usable Installed Memory
Slot 'DIMM 0' has 8192 MB
Slot 'DIMM 1' has 8192 MB
Slot 'DIMM 0' is Empty
Slot 'DIMM 1' is Empty
●►Operating System: Windows 7 Ultimate.
Upon installation attempt, this screen saver said it needs Macromedia Flash Player 5 or better. I found and installed that (Version 8). The screen saver still did not work. It still said it needs Macromedia Flash Player 5 or better. Therefore, this screensaver was useless to me. ...Or so I thought.
I was QUITE disappointed.
●►After all of that, I got to thinking that because this computer is brand new with the latest hardware and the problems associated with installing an "old" operating system on new hardware that this/these could have something to do with the problems with getting this screen saver to work. So, I downloaded the "Flash Fix" file mentioned above and ran that.
●► That got this screensaver to work on this OS _AND_ hardware combination. YAAAYYY!!!
●► As I surmised, not only does the OS have something to do with whether or not this screensaver works, but the actual hardware that one is using, as well.
THEREFORE, the webmaster of this page needs to address that in addition to the OS issues cited.
●► All of that said, because of the issues experienced while installing this screen saver and the fact that the lighting never changes from daylight to dark and back with shadowing during play, I can only give this screen saver 3 stars. However, I do like the ability to choose which scenery you want and which fish and how many of them you want in 'your' aquarium.
by btljooz on March 13, 2018
This is beautiful; I want to have my screen saver on all the time and watch the fish. I am running Windows 10 and I had to download the extra file; now it runs perfectly. Thanks!
by Melanie on March 3, 2018
great
by mam on February 20, 2018
after i installed there is an error runtime and dont allow the aquarium to work
by ada on February 8, 2018
I keep getting a pop up box idicating a runtime error after I installed Living Marine Aquarium 2. How do I remove this error?
by debbie on January 26, 2018
Beautiful!
by Laurie Marks on January 17, 2018
It looks nice, but why doesn't it display on all screens? My desktop image still displays on my other screens when the aquarium is running on my main screen. My other screensavers don't do that, so not my setting.
by B.A. on September 21, 2017
It's very soothing to the body just watching it. I recommend this to those with PTSD and other mentally ill.
by Bonnie C Wedge on August 14, 2017
i like skren sevr
by memo on April 25, 2017
its nice
by romesh on March 14, 2017
It's simply wonderful. However i don't know ow to install it.
by Safdar Agha on February 19, 2017
This doesn't even fill my screen on my laptop at 1024X768.......... there's no slider for the bubble sound level, and it glitched out like a really screwed up video game (watch AngryJoe's review of The Division) with long artifacts and other glitches half the time I previewed it. Wanted a newer looking Aquarium screensaver, but I guess I'll keep using Marine Aquarium Time 2.0.
by Bob on February 14, 2017
Unfortunately, it doesn't fill the screen for a screen resolution of 3840 x 2160 and looks cheesy. I believe I had an earlier version of the screen saver on an older computer and it looked great. The product description should inform the prospective downloader which resolutions are supported
Screensavers Planet: Your older computer may have had a monitor with a 4:3 aspect ratio. Unfortunately, this screensaver is old and was not made to support other aspect ratios. It will only fill the screen on resolutions like 1024x768 and 1280x960. Based on your 3840x2160 screen resolution, you seem to have a 16:9 widescreen display.
by George Holbert on January 30, 2017
awsome
by lou lou on January 29, 2017
The best of the free aquaria, and one of the best at any price.
by Rain Adkins on January 16, 2017
On most antivirus programs, its some kind of virus. I'm using avast. I looked into the antivirus tab and on avast my computer is safe. AVAST ROKS! Anyway, this screensaver is beautiful and calm. 5/5 Best!
by Whitley on December 8, 2016
So beautiful
by Ajay kushwaha on November 27, 2016
VERY NICE
by ARTHUR on October 29, 2016
my cats love it so I'm happy with it to
by karen on October 26, 2016
This is such a beautiful screensaver, and I really appreciate the sound effects like there is a real aquarium in my room, however it is most unfortunate that I could not adjust the settings to change the graphics for continuously I encounter a "settings.dat has stopped working" error whenever I click on thesettings tab. I like this screensaver a lot but I will have to uninstall it since the current resolution is simply too small for my screen.
by Cruxis on October 24, 2016
I Really love the screensavers. Now I found out that windows 10 has them.
by Donna K Edwards on September 28, 2016
nice screen sever cool
by rajkumar on September 28, 2016
i like it a lot
by george conklin on September 18, 2016
amazin cool
by jordan on September 4, 2016
amazin cool
by faazshabeer on September 1, 2016
beautiful
by Anna Eller on August 28, 2016
really beautiful.
by peter dorosz on August 21, 2016
beautiful deep water
by sofi on August 13, 2016
like it
by penny on August 8, 2016
Write a review