Dream Aquarium
Realistically rendered fish and other sea creatures inhabit this virtual dream aquarium screensaver, designed by an Academy Award-winning effects artist. Shifting rays of light, ripples and an animated environment add to the realism. A fiddler crab chases the fish while cleaning the bottom of the aquarium, and there's support for multiple monitors, widescreen formatting, and more than twenty-three species of fish, each with well-articulated fins and animated eyes and gills. Settings are adjustable without exiting the screensaver.

19.95 USD

8.28-18 MB


for

Windows

,

Mac

60,057
Download
Screenshots
Video preview
Files
Anti-virus
Help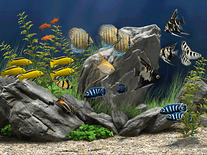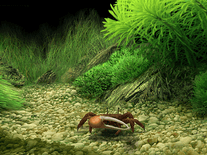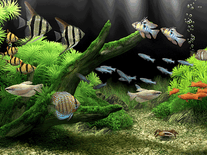 Message board
Is your question not listed? Post it on our message board »
Installation instructions
Microsoft Windows
Double-click on the trial file downloaded above to start the installer.
If you agree to the license terms set forth, click the "I Agree" button.
The default install location (C:\Program Files\Dream Aquarium) is fine for most users, and does not have to be changed. Click "Install" to begin copying all necessary files to your computer.
You will be asked whether you want to have the installer create a desktop shortcut. This is not strictly necessary, but it will allow you to access the screensaver directly from your desktop.
Click "Yes" if you want to make Dream Aquarium your new default screensaver.
The installation will be completed and Windows's Screen Saver Settings panel will open.
Anti-virus report for Dream Aquarium
Our editors have reviewed all files and found them to be safe, but they are also checked automatically using many different virus scanners. We are happy to share the results.
| Virus scanner | DreamAquariumXP.exe | DreamAquarium_1.296.18.dmg |
| --- | --- | --- |
| AVG | | |
| Avast | | |
| Avira | | |
| BitDefender | | |
| ClamAV | | |
| ESET-NOD32 | | |
| F-Secure | | |
| Kaspersky | | |
| Malwarebytes | | |
| McAfee | | |
| Microsoft | | |
| Panda | | |
| Symantec | | |
| TrendMicro | | |
| Webroot | | |
| Last scanned | 2 weeks ago | 1 week ago |
We have 2 files for "Dream Aquarium"
DreamAquariumXP.exe (Windows)
DreamAquarium_1.296.18.dmg (Mac)
File report #1
File name
DreamAquariumXP.exe
Target system
Microsoft Windows
File size
8.28 MB (8,684,083 bytes)
File type
Portable Executable (EXE)
Anti-virus
Detection ratio
0/15 (0%) View report
Popularity
Total downloads
50,106
Last downloaded
1 hour ago
File verification
MD5
dff323fefe075cc604085711a7985d2d
SHA1
ac95161c1e675a8eb6102f339fcae52e02f5659b
SHA256
6b25587b499327f1cba1a2b592a378ebb93079e5e65b3202a9a0453a8c436a36
File report #2
File name
DreamAquarium_1.296.18.dmg
Target system
Apple Mac
File size
18.00 MB (18,874,368 bytes)
File type
Apple Disk Image (DMG)
Anti-virus
Detection ratio
0/15 (0%) View report
Popularity
Total downloads
9,951
Last downloaded
21 hours ago
File verification
MD5
d8b470cdf731246ba786df57f2bf0051
SHA1
a9451b3fe1323ee92e1946dded63cbb52c4a3a08
SHA256
7b3ef1416092865f72cefcfa6656035d69ea8ea9c4b1986d22604bbd75768a1d
Editor's review
A highly-realistic virtual aquarium designed by an Oscar-winning animator
July 4, 2016
Designed by Alan Kapler, a special effects artist and animator who has previously worked on Hollywood blockbusters such as Titanic, X-Men and The Day After Tomorrow, Dream Aquarium is one of the most realistic freshwater aquarium screensavers on the market.
Inspired by his love of fish, Kapler, who was honored with an Academy Technical Achievement Award in 2005 for a software program he developed, left Hollywood to work on Dream Aquarium, which he first released in 2006 and is still actively developing.
Continuous development is made possible by the fact that Dream Aquarium comes with the small price tag of $19.95 (payable via credit card or PayPal). Twenty percent of profits are donated to environmental charities, with a focus on habitat and wildlife conservation, as well as climate change and alternative energy sources, and a free demo version with limited options and nag-screens is available for anyone who wants to try before they buy.
What the money gets you is a virtual tank with 27 species of fish – as well as a fiddler crab cleaning the bottom of the aquarium – that behave much like their real-life counterparts: they peck at objects, eat food, chase each other, swim in schools, and even poop! Additional species, from the Red Tiger Discus to the Long-Finned Rosy Barb, can be purchased separately for $2 each, or as a pack containing all 10 species for $8.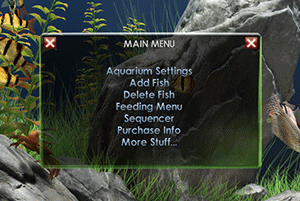 The screensaver's settings menu, accessible via the Screensaver Settings Panel in Windows or the Screen Saver panel in OS X, allows you to protect your tank from changes being made by other users, set the maximum number of fish to allow in the tank, as well as their size, and customize various graphics settings. Most of the options, however, can be accessed by hitting the Enter key on your keyboard while Dream Aquarium is running. From there you can change the composition of your tank, feed the fish with "byte-sized" food for virtual fish, add new species, and alter numerous other behaviors.
By default, the camera position is static, showing you the full aquarium, but you can opt to have it follow one fish in particular, or several fish chosen randomly. You can adjust the air bubbles floating up to the surface, along with the speed of the fish, and even the background image can be replaced with any image on your hard drive, like a family photo.
Unless you tell it not to, Dream Aquarium will automatically connect to the internet to look for updates, such as bug fixes and improvements, once every three months. To spare your laptop's battery, the screensaver will not run unless you have your laptop plugged into a power outlet, though this behavior, too, can be customized.
With full multi-monitor support, realistic sound effects of air bubbles and trickling water, and an active online support forum, Dream Aquarium well-deserves a 5-star rating.
User reviews (43)
Paid the $20 dollars and for several months afterward I considered it money well-spent. Then, I began to see a "red screen of death" with increasing regularity. I tried all of their bug fixes, including an uninstall. Nothing has worked. Oh, well. $20 for approximately 9 months of use isn't so bad (I'm kidding, it sucks). Running Ventura 13.4.1 (c) on an Apple M1 Pro.
by It's Me on August 3, 2023
don't know yet
by LAURIE UZZEL on September 2, 2022
Why is not running with MAC OS?
by Tomas on April 9, 2022
I love it could set here all day watching it
by Glenda Rozier on March 28, 2022
i love it
by Wanda Williams on March 21, 2022
Its good, But Crash the win 11 and frozen the machine, Send few emails to customer service , no one responded. Not recommended for win 11. Because it is not working for me. as I installed few times.
by Sira on December 29, 2021
I have bought this version a couple of years back and now it still works perfectly on the newest Windows 11. What is lacking is the introduction of the new variety of fish. I would love to see more fish over on sales such as Siamese fighting fish (Betta), Guppy and Arowanas (Red, Gold, Silver). I had seen many Customers suggest on their Forum, but it seems that the Author was no longer active.
by Jason on November 6, 2021
This is the best virtual fishtank out there, the fish move like the real thing. A friend of mine who maintains fishtanks for a living had to do a double-take when he first saw it. Well worth the tiny $20, and some of that goes to charity. Buy it. Even with the minor hitches on some platforms, it's worth it.
by TK on September 5, 2021
It is very nice but the demo version on Windows 10 changes my screen color temperature and makes it way too bright. It is ok for the screensaver to do this for itself but it should go back to my settings after it stops running.
by TheOldEngineer on August 17, 2021
nice
by Nagaraj on April 9, 2021
best
by manoj on March 27, 2021
GOOD
by PUNIT GUPTA on March 2, 2021
its nice
by md alauddin on January 25, 2021
the free version slows down the pc a lot which does not happen with other types of screensaver and after showing different types of aquarium there are only 2 fishes to swim on the black screen without showing the background of the aquarium itself so I deleted it after a short time and it was a real disappointment ....
by adam on January 4, 2021
NICE
by SHUBHAM on November 26, 2020
i like aquarium
by vibushnan on October 7, 2020
is wonderful
by tata on August 23, 2020
really good! but needs options to turn sound off, and needs to slow the action a bit -- too fast, not relaxing
by Dan on July 16, 2020
amazing
by sam on March 26, 2020
Been using the paid version of this for years, I absolutely love it!
by Matt on February 21, 2020
very nice relaxing
by phil owens on January 31, 2020
It is an amazing screen saver however it only works on earlier versions of windows such as vista and xp. Crashes anything later than that especially windows 10. Beware.
Screensavers Planet: We tested it to work on computers running Windows 7, 8 and 10. It has never crashed. There may be a compatibility issue with your computer.
by Henry on January 9, 2020
I have owned this screen saver for 12 years. I have installed it on over 25 computers including all the computers at my business. The people complaining about nag screens in the free version just need to pay the price which is WELL worth every penny. Since there is a limited amount of computers licened by the $19.95 fee I have GLADLY paid for this screen saver 4 times. The person on one site that compained there was no control of the screen saver timing and sleep mode needs to go to their PC settings where there is full control of all screen savers, including Dream Aquarium. For the people who complain that it does not work in windows 10, get a geek to fix it for you. I have had this screen saver on every PC OPSYS since Windows 7, including Windows 10 for the past 2 or 3 years.
BTW this is AWESOME on multi-screen setups. The fish swim in and out of all three screens on my home desktop.
by Phyllis Wright on October 10, 2019
Is the best
by Sunil on September 15, 2019
Look nice and awesome ! but let's Try...
by Dichiara Sujana on July 4, 2019
Doesn't work on Mac OS X
by John Jonasson on January 12, 2019
LOVE IT
by SAM SHAMON on January 6, 2019
$20 for a screensaver. nuf sed.
by stagl on February 12, 2018
terrible, on my win 7 PC it maxed out my CPU and win 10 it crashes.
by Joe on December 10, 2017
Awesome
by Liz Chapman on October 10, 2017
Annoying unless you want to purchase the full version for $19.99. I'm sure the full version is awesome, but give me a few minutes to enjoy the free version before you start throwing pop ups in my face. And it doesn't specify, but I wonder if they have their website at the bottom in the paid version.
by Nate James on September 7, 2017
I love it! very relaxing!!!!
by lbfrey on May 24, 2017
cool
by cam on April 19, 2017
Nice looking aquarium, great graphics! Would love to purchase the full version but they donate 20% to charities and causes that I do not agree with... bummer!
by Jimmy Q on February 22, 2017
hate free sreen saver that have popups
by tim on December 11, 2016
very impressive love the depth and the vibrant colors
by John on February 20, 2016
It's cute
by Cathy on November 20, 2015
Does not work well with Windows 10
by WMC on October 8, 2015
Beautiful
by Essie on September 14, 2015
Wonderful
by richard babcockwomderful on May 9, 2015
demo version. limited useability.
by fake on February 18, 2015
Fair, Tell me how to get rid of it
Screensavers Planet: To uninstall the Dream Aquarium screensaver, please see our help page How to remove (uninstall) a screensaver for step-by-step instructions.
by C. Johnson on November 19, 2014
Write a review