Johnny Castaway
Johnny has found himself stranded on a small desert island with nothing but a coconut palm tree, the wonky raft on which he arrived, and an empty horizon. Watch as this castaway does his best to survive on fish and coconuts, passing time by engaging in a seemingly endless variety of activities, and coming ever so close to being rescued. Sounds are enabled by default, but can be turned off via Windows's Screen Saver Settings.
This download only works on 32-bit versions of Windows. For other systems, please see:

Free

1.29 MB

for

Windows

59,016
Download
Screenshots
Video preview
Files
Anti-virus
Help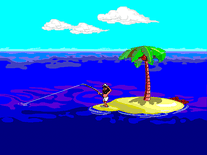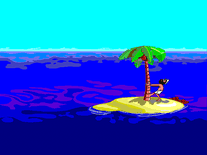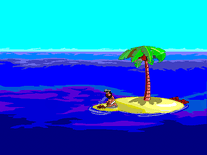 Message board
Is your question not listed? Post it on our message board »
Installation instructions
Microsoft Windows
Double-click on the file you have downloaded to start the Screen Antics (SCRANTIC) installer.
If you are asked whether you "want to allow the following program from an unknown publisher to make changes to this computer," click the "Yes" button.
If you get a message stating "Error creating process [...] The requested operation requires elevation" then please right-click on the johnnycastaway.exe file and choose "Run as administrator".
Click "Next" to proceed, then click "I Agree" if you accept the terms of the license agreement.
We recommend installing this screensaver to the default destination directory, which is your main Windows folder (on most computers, this is C:\Windows), so simply click "Next" again to continue.
A Start Menu folder named "Screen Antics" will be created, from where you will be able to easily uninstall the screensaver in the future. You can optionally change the name of this folder before you click "Install" to begin copying all necessary files to your computer.
Installation may take a few seconds, then click "Close" to exit the install program. You should now be able to find "Screen Antics" among your other screensavers.
If the screensaver fails to start and returns an error involving "[...] cannot start or run due to incompatibility with 64-bit versions of Windows," then your computer is equipped with a 64-bit version of the Windows operating system, and this (16-bit) screensaver cannot be started. A workaround can be found here: How to install Johnny Castaway on Windows 64-bit.
Anti-virus report for Johnny Castaway
Our editors have reviewed all files and found them to be safe, but they are also checked automatically using many different virus scanners. We are happy to share the results.
| Virus scanner | johnnycastaway.exe |
| --- | --- |
| AVG | |
| Avast | |
| Avira | |
| BitDefender | |
| ClamAV | |
| ESET-NOD32 | |
| Kaspersky | |
| Malwarebytes | |
| McAfee | |
| Microsoft | |
| Panda | |
| Symantec | |
| TrendMicro | |
| Webroot | |
| Last scanned | 3 weeks ago |
We have 1 file for "Johnny Castaway"
johnnycastaway.exe (Windows)
File report #1
File name
johnnycastaway.exe
Target system
Microsoft Windows
File size
1.29 MB (1,357,166 bytes)
File type
Portable Executable (EXE)
Anti-virus
Detection ratio
0/14 (0%) View report
Popularity
Total downloads
59,016
Last downloaded
12 minutes ago
File verification
MD5
1e9c1808fb661979f017a47899a011be
SHA1
2a5516b7ec2e354db1de6b77d6006975aec221ee
SHA256
b29b2f9459d1b6eab7e884d492ae43723db33f124471449787087f997f8ca2ff
Editor's review
The classic man-on-island screensaver
June 4, 2012
When it was first released in 1993 by Sierra On-Line/Dynamix, Johnny Castaway was the first screensaver to tell a story. It thus distinguished itself from the similarly popular 1989 After Dark series of screensavers, which featured flying toasters and starry nights, among others, and notably had a modular system that allowed third parties to add new themes and animations to the series. These were all relatively predictable — Johnny Castaway was not.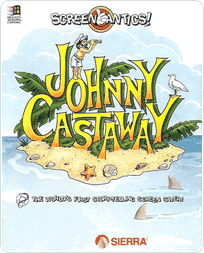 At the center of this screensaver is the stranded man we have come to know as Johnny Castaway, alone on a small desert island with nothing but a coconut palm tree. Most of his days are spent fishing, reading, running and drinking from coconuts, but every so often he engages in a new activity, or some unexpected event takes place. He may be visited by a mermaid, eaten by a shark, or come close to being rescued, but whatever the adventure is, Johnny always ends up back on his island. These scenes occur randomly, and so the exciting thing about this screensaver is that you'll never know what will happen next.
One exception to this irregularity of events is that Johnny celebrates the major U.S. holidays, including New Year's Eve, Christmas, St. Patrick's Day and Halloween. As the screensaver depends on your computer clock, it's easy to trick Johnny into thinking it's Christmas by changing the date to December 25.
It will be obvious to anyone watching this screensaver today that the graphics have not been updated since the initial release in 1993. Since most modern computer monitors have display resolutions far above 640x480 pixels, the screensaver is unlikely to employ your whole screen. Instead, it will be displayed at its original size against a black background — using less power, it should perhaps be noted, than if it were to fill the whole screen.
The biggest downside to the lack of updates for this screensaver, however, is that it may soon become impossible to use at all. Johnny Castaway was designed to run on a 16-bit operating system, such as Windows 3.1x. While all 32-bit versions of Windows, including XP, Vista and 7, will continue to support 16-bit software programs such as this one, the trend is toward 64-bit computer systems, which will not allow 16-bit programs to run.
Update: a workaround is available for getting the Johnny Castaway screensaver to work on 64-bit versions of Windows. See: How to install Johnny Castaway on Windows 64-bit
Despite these flaws, exposed by modernized technology, Johnny Castaway still stands tall as one of the most entertaining screensavers of the last two decades. As long as you have a 32-bit version of Windows, you can and should experience this important and fun piece of computer history that helped popularize screen savers.
If you need an excuse to be watching Johnny's adventures all day, here's the plea from the bottled letter that accompanied the original 3 1/2-inch floppy disk: "Stop everything! Only when you quit working, do I have a chance to escape this forsaken island. So please, do it for me — kill some time to save an old salt!"
User reviews (47)
better way to enable it on 64 bit windows
https://techcommunity.microsoft.com/t5/modern-work-app-consult-blog/running-16-bit-applications-on-windows-10-64-bit/ba-p/1671418
by yehuda on July 3, 2023
Used to watch this all day at my first computer job in 1995. I like to use archive.org and play it in a full screen with their Dosbox collection.
by squidburns on November 23, 2022
i have used it for years but now with all the newer apps you can't use it any more i wish there was a update for win 10 and 11
by sue on October 10, 2022
Didn't work on Windows 10 until I followed the guide and downloaded the installer from "How to install Johnny Castaway on Windows 64-bit"
by Tom on August 11, 2022
Best screensaver ever! How come no one has remade this, or a new one!
by Zandi on July 17, 2022
The years go by, and no one has created a better one.
Genial screensaver
by IcZin on June 5, 2022
I managed to make this screensaver work in Windows 11. Here's the link for the portable version already mentioned before by JohnnyFan on November 23, 2020.
It worked fine in Windows 11. Even as 4:3. Also managed to make the shortcut work.
This is an alternate link for this portable version, with a readme also written in brazilian portuguese:
https://drive.google.com/file/d/1DV1VIhZmGjsy3tY5_kPbUkULJtQktt4E/view?usp=sharing
However, it's not possible as it would if this was installed directly, to configure certain aspects from it, such as disabling sounds and graphic details. But that's a minor inconvenience.
EDIT: I was instructed to change this by checking this file:
dosbox\WINDOWS\SCRANTIC.INI
I'll check this later.
I think the readme from this portable version is badly written. This is what I would instruct an english reader:
Copy (or move) these folders:
-- dosbox
-- DOSBoxPortable
For C:\ (root)
2) Copy or move this file to the Windows folder.
-- Screen Launcher.scr
3) Open this file:
-- Screen Launcher.scr
To allow Windows to add into the list of active screensavers. Then right there in the screensaver settings (for Screen Launcher) change the settings to point to this location:
C:\DOSBoxPortable\DOSBoxPortable.exe
Images showing where to change this bit:
https://i.postimg.cc/zDhTprB6/TEL1.jpg
https://i.postimg.cc/kXdKppR4/TEL2.jpg
4) Optional step: create a new shortcut, and point to this location:
"C:\Windows\Screen Launcher.scr"
Also right below, write this in the path to run the shortcut:
C:\DOSBoxPortable\
For the proper icon, inform this folder:
\dosbox\johncast\JohnnyCastawayXP.SCR
And that's it.
by Felipe on April 9, 2022
Doesnt work, "cannot change resolution"
by Nick on February 28, 2022
It's too old to run.
by Brayden on January 29, 2022
I have loved this screensaver since I first found it. I installed the Windows 11 preview last night and this screensaver still works with the 64-bit install
by cliff on October 9, 2021
i didnt install corectly
by MR.IBM on September 22, 2021
nice
by joan on June 5, 2021
The screensaver in my Windows 10 (64 bit) looks great, but there are two issues which need to be corrected: sometimes it crashes and shows a "general protection fault in module CSPMAN.DLL". When this happens you can't simply disable the screensaver by moving your mouse. You need to hit OK to close this window and also do a control + alt + del and force closing. This is a bug that may or may not happen in some moments, say, once or twice a month.
Another issue with this screensaver is that it should be in the original 4:3 aspect ratio, not 16:9 (I use a 1920x1200 old 16:10 monitor), or fill our screen regardless of what we are using. When the screensaver does the latter it is stretched. This is a bad idea, even if in the 4:3 original AR we are forced to see two black bars at the sides, it would have been better if had been presented this way. Because it was not created with the 16:9/widescreen ratio in mind.
Finally, if you look into the original Johnny Castaway screensaver you'll see some options like disabling clouds, background, etc. are not available in this Windows 10 version. It was available back then when you installed in Windows 95. There are a few Youtube videos showing these original options. I miss them here.
One last comment: I wonder if this Windows 10 modification can also work like the original one in Windows 95. There is a YT video (The Most Captivating Screensaver... Ever (Nostalgia Nerd YT channel)) explaining how random this screensaver can be, the original used a settings file which you could edit. At least here for Win10 I couldn't find such file. So I believe all possible scenarios from this screensaver aren't available here. Even though I saw this changing on St. Patrick's Day, that doesn't mean the screensaver is considering multiple days running. The original one changed based on how many days it was running. It's possible this one it's showing the same stuff whenever it runs.
by Diego on May 11, 2021
Why doesn't someone update Johnny Castaway for Windows 64-bit? I would buy it.
by Michael B on March 2, 2021
This is the absolute best. Been on my screensaver ever since childhood! Thank you!
by TBC on March 1, 2021
I had Johnny on my PC, years ago. It was the most entertaining thing in the office.
People used to gather round, at lunchtime, just to watch his antics.
Yes, you read that right, they watched a screensaver!
by Pete Moore on December 31, 2020
Here is a portable version of the same screensaver on this site, will not conflict with existing DOSBox installs as it uses its own. Follow instructions in README, everything is already configured, just extract and run. Works in Win10.
https://1fichier.com/?3yqykpigettg7j7pawma
by JohnnyFan on November 23, 2020
Back in time I had this on wnds 3.11 was 11 YO and a super slow desktop with two drives. I used to pass hours just watching Johnny eating seagulls and making his boat and throwing coconuts to the airplane... Really nice memory's. 1992. I hope sierra can make an effort to make another version of this. I😁😁😁😁
by 6lucas6barbedo6@gmail.com on November 7, 2019
And for Linux?
by Fox on September 16, 2019
This has always been my favorite screensaver. But now, since Windows 7 is going to be obsolete in January, I wonder.. will it work on Windows 10? I hate to lose this.
Update: I'm sad that he doesn't do as much as he used to. I realize that it's not updating anymore, but I thought he'd continue to do all the things he did before. I still like it. It's just disappointing to watch him do the same few things over and over.
by Margaret on June 25, 2019
There is a "standalone" version available:
https://www.thingiverse.com/thing:3328477
by Quinn on January 2, 2019
Very good screensaver.
by Ingmar on September 28, 2018
I have automated this setup :-). It extracts the dosbox, adds the screensaver to win directory. Runs a powershell which sets the screensaversettings in the registry. The only thing you have to do is select the screensave "Johnny castaway" in your windows.
Only tested on win 10 64bit.
https://yadi.sk/d/wPP6cBhu3ZN4ZY
by Sirrobin on July 19, 2018
Windows 10: "Resolution change not accepted."
Good concept though.
by Preston on March 3, 2018
good
by eemeli on October 17, 2017
Hi since Johnny apeared on the web he has been my screensaver He has lasted longer then my pc's
by BILL on October 15, 2017
Loved it then...love it now
by Teri on August 6, 2017
Its awesome
by Lenni on July 6, 2017
I think its the best one around
by Joseph on June 24, 2017
Great and historic.
by Bob N on February 20, 2017
I love it
by vacsati on April 12, 2016
Awesome! It never quite repeats itself, it's always amusing, he has LOADS of little adventures, one of the best screen savers ever! The only problem with it is it's ADDICTIVE - you want to watch it rather than get work done! I don't know if anything will ever quite top it and I don't even know who wrote it. Full marks from me!
by Christopher Burke on April 10, 2016
I had Johnny Castaway many years ago and have luckily found it again
by Geanetta Foce on April 4, 2016
good
by hanz on February 17, 2016
like it !
by steve tessneer on January 7, 2016
funny
by wayne downing on January 1, 2016
Update it. Johnny was one of my first introductions into computer capability and I even occasionally would speak to him as though a co-conspirator at school. The program should be updated and expanded. Open source code anyone ?
by Max on October 16, 2015
Write a rerun compatible with current OS's including Debian & Linux
by Francois on August 18, 2015
I love this screensaver. It's by far my favorite, and I never tire of it because he does so many silly things. But, it never stays on nighttime for more than 15minutes, no matter what I set the start time at. I'd give it 5 stars if it would be nighttime during the night,rather than off and on at all hours of the day or night!
by Margaret on June 12, 2015
I love Johnny Castaway. This version does work on Windows 7, unlike some other downloadable versions. I have a dual display setup. When running this screensaver, my displays get all screwed up-- the second monitor becomes aligned underneath the other display (instead of side by side). This is unusable for me.
by Ryan on February 23, 2015
Love this screensaver. Followed the instructions and got it to work on my Mac, but I was wondering if anyone knew how to reduce the file size? After converting it, it balloons to 350 MB and turns on my fans after being on for more then 10 minutes.
Screensavers Planet: The application wrapper is so large (ours was ~170 MB) because it must emulate some essential components of the Windows operating system, thereby allowing the screensaver to run. The screensaver itself keeps its small file size, but it is "wrapped" with all sorts of additional files that allow a Windows program to work on Mac OS X. Unfortunately, there is no way to avoid this. As for your computer fans, we can confirm that the screensaver appears to put quite a bit of strain on the processor (CPU), but have not yet found a way to reduce this.
by Tim on February 11, 2015
love it although it wont woke on 64bit system wish they could update it.
by james sisco on January 4, 2015
I remember when I was a boy, I used to sit at the computer for hours simply watching all the various antics that Johnny gets up too. Loved it back then and still do to this very day!
by Aaron on December 18, 2014
Brings back a lot of memories.
by Willie on December 17, 2014
I had this on my windows 98 computer when i was a kid. getting all nostalgic using it in 2014.
by Ben on December 11, 2014
Toll aufbereiteter Bildschirmschoner aus alten Zeiten (Dos).
Schiffbrüchiger allein auf einer Insel.
by Bernd on November 21, 2014
Write a review