After Dark: Flying Toasters
A recreation of the Flying Toasters screensaver that was part of the After Dark series of original screensavers for the Apple Mac operating system. Bread toasters with wings and toasted slices of bread fly through the screen against a solid black background.

Free

0.02-0.03 MB


for

Windows

,

Mac

49,220
Download
Screenshots
Video preview
Files
Anti-virus
Help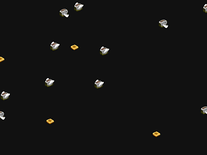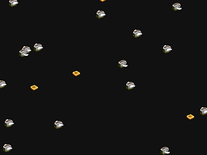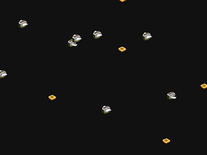 Message board
Is your question not listed? Post it on our message board »
Installation instructions
Microsoft Windows
Extract the screensaver file from the After Dark Flying Toasters ZIP file you downloaded, to the Windows folder on your hard drive, usually located at C:\Windows.
Right-click the screensaver file where you copied it and select "Install".
Apple Mac OS X
Double-click the "After Dark Flying Toasters.saver" contained within the ZIP file you downloaded to install the screensaver.
If OS X complains the program can't be opened because it is "from an unidentified publisher," right-click the screensaver file and select "Open", then click "Open" again.
Anti-virus report for After Dark: Flying Toasters
Our editors have reviewed all files and found them to be safe, but they are also checked automatically using many different virus scanners. We are happy to share the results.
| Virus scanner | After Dark Flying Toasters Win.zip | After Dark Flying Toasters Mac.zip |
| --- | --- | --- |
| AVG | | |
| Avast | | |
| Avira | | |
| BitDefender | | |
| ClamAV | | |
| ESET-NOD32 | | |
| F-Secure | | |
| Kaspersky | | |
| Malwarebytes | | |
| McAfee | | |
| Microsoft | | |
| Panda | | |
| Symantec | | |
| TrendMicro | | |
| Last scanned | 1 week ago | 3 weeks ago |
We have 2 files for "After Dark: Flying Toasters"
After Dark Flying Toasters Win.zip (Windows)
After Dark Flying Toasters Mac.zip (Mac)
File report #1
File name
After Dark Flying Toasters Win.zip
Target system
Microsoft Windows
File size
29.14 kB (29,843 bytes)
File type
ZIP archive
Anti-virus
Detection ratio
0/14 (0%) View report
Popularity
Total downloads
35,099
Last downloaded
2 hours ago
File verification
MD5
da8d8a7593e3eccc502a7c4549a17a5f
SHA1
ab37b4a520b7ce8734a7dcd2bf5dcd0cbd709d63
SHA256
8bd6b144775ea67858e528cbd776be8b7882c11e4b448ac2df10343ca7dd1f98
File report #2
File name
After Dark Flying Toasters Mac.zip
Target system
Apple Mac
File size
21.47 kB (21,989 bytes)
File type
ZIP archive
Anti-virus
Detection ratio
0/14 (0%) View report
Popularity
Total downloads
14,121
Last downloaded
3 hours ago
File verification
MD5
367632dfd4c3565f411a7d234e7ead9a
SHA1
e3771fa13e9ab0148bc5873a9cbad06b3e19580e
SHA256
f46267efafe37b8d094b9449a5d9d3413e683bed26a4d8ae8db2df717fe791cf
User reviews (56)
Loved this screensaver. Favorite of all time. But now is broken on Mac OS Sonoma 🤬😭
by CW on September 27, 2023
Love the screen saver, brings back so many memories. Appears to be broken on Sonoma (MacOS 14) though.
by kahuna1342 on September 26, 2023
ITS THE BEST THING EVEN GIVE MEEEEEE
by BlueBley on September 13, 2023
its wonderful
by Eric on August 24, 2023
Its good on my Asus laptop but it has no settings
by Denis on August 1, 2023
Oh my goodness it works GREAT!
by KitCatNat on May 10, 2023
Look the little toest I love them😍
by Corbin on April 20, 2023
good but where the song?
by meme guy on April 10, 2023
it's good, but it's just useless
by Janey on March 19, 2023
this is so cool, works on my Mac Monterey 12.06 :) only downside is the screen turns black after a few minutes of showing the screensaver but this could be due to a setting or something too, idk
by A on March 2, 2023
It's great. Have it working on an M1 Mac running MacOS Monterey (12.6 at moment of typing), and running on a Windows 11 machine too (just need to make sure the screensaver is copied across to the where the screensaver files live in Win 11).
by Mark on November 2, 2022
I haven't been able to get the Mac version running on an M1 Mac. I recently installed it on a couple Macs, both with Monterey, but one with an Intel i3 and the other with an Apple M1 processor. It works on the Intel Mac but not on the M1 Mac (on the M1, it says it's not compatible with the system and I'd have to contact the developer to get a newer version). I suspect it's only an Intel executable.
by CalicoSkies on July 19, 2022
it's simple, and nice
by vince on June 28, 2022
Doesn't work in Monterey (macOS 12), but did work in Big Sur (macOS 11)
by BlueBird ofHappines on June 14, 2022
Beautiful! So nice to have a little bit of AfterDark on my screen again! Thank you!!! Can you add customizations like in the original?
by Virginia Ramunda-Marty on February 26, 2022
Downloaded the mac version on linux>pulled index.html out of exec package>open in txt edit>ooooo million setting Flyin' Toaster power waster! -Awesome.
by Kevin on September 1, 2021
Sucks- no music or sound
by Larry on May 17, 2021
Works on Big Sur, you just have to launch it from the screensaver folder then allow it to be ran in the security settings.
by Paul on April 30, 2021
does not work on second monitor like i need
by T on April 20, 2021
ummm maybe update this so it actually works with Big Sur
great preview tho....edit....second download worked fine.
by may on December 15, 2020
Works on windows 10, but doesn't really handle 4k displays that well.
by Kate on October 26, 2020
Nostalgia at its finest!
by DougInMaine on August 11, 2020
I nearly wept when I got this to work on my laptop and external monitor; I can't believe how long it's been since I had the first version of After Dark! and how much I've missed it. The best dose of nostalgia I've had in a while!
Note the security tips: https://www.screensaversplanet.com/help/guides/mac/file-cant-be-opened-because-it-is-from-an-unidentified-developer-38
by amkaplan on July 29, 2020
Doesn't work if you're using nVidia surround
by Vorden on July 3, 2020
For the first time in 20 years, I have flying toasters on my computer! It takes me back to high school and installing After Dark onto my 386SX-16 with a whopping TWO MEGABYTES of RAM (!) and watching those toasters stutter and jerk across the screen; today they glide effortlessly across the screen on my dual core i5 MacBook Pro. My, how times have changed...
by Regan on June 14, 2020
Yep. definitely loved it in the early 90s on my Quadra when working at an oil company in Lagos. Great stuff!!!
by big jimi naija on April 28, 2020
The screen saver is very nice. I wished there would be all the other afterdeck modules incl. Disney and StarTreck available for MacOS X. My only problem in Mac Catalina is that every once in a while the system pops up and requests to move the screensaver to the Trash Bin since from an unidentified developer. Although I go to the privacy settings preferences to allow opening the screensaver, it happens over and over again. Its a bit disturbing. Any one has the same issues and maybe a solution to this problem?
by Roger on April 28, 2020
It's not codesigned. Therefore, I can't trust it on my system. Very disappointed.
by Doesnt Matter on April 26, 2020
Works great for me on my MBP running 10.15.4 - across my 30" Cinema Display and 2 x 27" 1080i screens all at once!
Shame there's no configurable settings - so a star off for that.
But otherwise I'm awash with nostalgia!
by Nick on March 2, 2020
Reminds me of my childhood. You should allow for multiple monitor settings, though.
by Chris Kreschollek on November 25, 2019
Great screensaver. No settings, alas. But it's free and works on Catalina! I like the retro stuff. This a feel-good screensaver.
by Isotizer on November 2, 2019
Sadly doesn't work on XP for me :/ 2 stars
by zoomer4548 on October 21, 2019
Major Love for Flying Toasters. Really Relax My Mind.
by Carlos Sosa on October 20, 2019
Fantastic. I wish operating systems had more character like they did in the good old days. Nowadays everything is so sterile and there's no way at all to add personal touches to your environment. Sad. But this screensaver really helps bring back the memories of better OS days. Very, very well done.
by John Schilling (StimpSoft) on September 5, 2019
Great to have a FREE version that works with Windows 10.
(I have home version with all updates as of 7/2019).
Installed and worked no problems.
by Chris on July 16, 2019
great! pity that you haven't any personalization about dimensions, speed... but ok, it's freeware :)
by fabrizio g on February 21, 2019
I think they are a great piece of art and they are very much missed, I flourished with them growing up with Windows 3.0, 98 and XP.
I would also like to see an updated Free Agent Screen savers like Morface, On Patrol, etc...
by Monk Paloo on December 2, 2018
Nice touch of nostalgia - works fine on Mojave. (OS 10.14)
by Ox on October 3, 2018
Great Screensaver! Only Problem is that it Does Not Work on Mac OS 10.6.8.
by Mastergeko4 on September 20, 2018
Not optimized for 4k screen. The instants of the toasters disappear before they are out of the screen, and none of them reaches the bottom left of the screen.
by Joa on July 25, 2018
Its Does Not Have Any Of The Customization The Original Had
3 stars
by Collin Anderson on June 21, 2018
Works perfectly on Mac OS on both single and multiple display setups.
by Jay on April 12, 2018
Sadly does not work on multiple monitors, and doesn't even make the second monitor black, wanted to like this, but that's unfortunate :-(
by BoFiS on April 4, 2018
Very nice. It reminds on former times working with Windows XP. Now I have installed the screensaver to Windows 10 Pro x64 Version 1709. To install the screensaver copy the scr-file to C:\Windows\System32. To activate goto settings-personalization-lockscreen, scroll to last entry: settings screensaver.
by Horst Hader on December 21, 2017
Thank you! Really well executed/ported. I missed it! Works great!
by Eric on November 22, 2017
Still have the original CD and run it on my XP machine. Shortly updating my machine and hope I can get it to run on Windows 10.
I like the falling bouncing balls (Marbles) the best.
by Jim Butterworth on November 20, 2017
Thank you for bringing this back!
by Michel Larocque on September 24, 2017
Love it1
by Mitc h.. on September 6, 2017
THIS IS SO GREAT! Thank you for porting this over! :))))
by Eric on August 18, 2017
Great thing, finally!
Suggestions for a new version:
user can use a configuration menue to define
- background image and foreground image (that reflects on toasters)
- light brightness and adjust color (affects flying items only)
- light location (affects flying items only)
by Hirnsausen on April 20, 2017
nostalgia, nice nostalgia
by ih on March 21, 2017
I can watch it forever, like I used to do. Toasters fly a bit too smoothly, though.
by Kota on March 15, 2017
Pretty good. In fact I love it! Except - no sound. I miss the Flying Toasters anthem
Flying out of the sun
The smell of toast is in the air
When there's a job to be done
The Flying Toasters will be there!
by Sean on February 8, 2017
MMmmMM... tasty.
by Toast on January 30, 2017
OMG the nostalgia! Runs so smoothly too.
by Perry Bruns on July 1, 2016
Reminds me good memories!
by Colin on June 9, 2016
Write a review