3D Pipes
Colorful pipeline structures are formed in 3D on your screen in this classic animated screensaver for Windows. The screensaver's settings panel allows you to customize the style and joint type of the pipes, and to use a custom BMP image file as its surface.

Free

0.25 MB

for

Windows

110,745
Download
Screenshots
Video preview
Files
Anti-virus
Help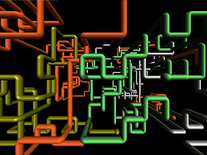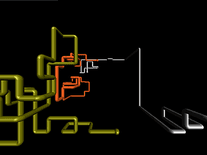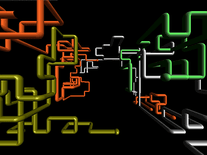 Message board
Is your question not listed? Post it on our message board »
Installation instructions
Microsoft Windows
Copy the "3D Pipes" screensaver file to the Windows folder on your hard drive, then right-click it and select "Install".
The Screen Saver Settings panel should open, and "3D Pipes" should be selected as your current screensaver.
Anti-virus report for 3D Pipes
Our editors have reviewed all files and found them to be safe, but they are also checked automatically using many different virus scanners. We are happy to share the results.
| Virus scanner | 3D_Pipes.zip |
| --- | --- |
| AVG | |
| Avast | |
| Avira | |
| BitDefender | |
| ClamAV | |
| ESET-NOD32 | |
| F-Secure | Trojan-Downloader:W32/Kavala.B * |
| Kaspersky | |
| Malwarebytes | |
| McAfee | |
| Microsoft | |
| Panda | |
| Symantec | |
| TrendMicro | |
| Last scanned | 1 week ago |
* When only a few of the virus scanners detect a problem with a file, this usually indicates a false alarm. While we cannot guarantee the safety of any file for 100%, we review them all carefully and report false positives to the anti-virus companies.
We have 1 file for "3D Pipes"
3D_Pipes.zip (Windows)
File report #1
File name
3D_Pipes.zip
Target system
Microsoft Windows
File size
251.83 kB (257,879 bytes)
File type
ZIP archive
Anti-virus
Detection ratio
1/14 (7.14%) View report
Popularity
Total downloads
110,745
Last downloaded
45 minutes ago
File verification
MD5
5e59b9a2743207456611c2581d5e1cf3
SHA1
0416b822072370152d3239ef1c13dff578ae33d6
SHA256
4ffcc9bd9ef9bcba990caec3463e2e4a1d4515d9e72f8745aea592e0fa26fa6b
User reviews (81)
Its looks awesome
by Zaden on September 24, 2023
My beloved 3D pipes! I have windows 98 still; but I think the last time I tried it in XP, or 7, it ran at 33,000 miles an hour, lol! Did Microsoft make a change in windows 10?
THANK YOU....
by me on September 12, 2023
Owsome yes
by Hisyam on July 11, 2023
Good, but no teapots!
by Sam Hardy on April 11, 2023
5 stars [Best]
by braedyn on April 4, 2023
I have no idea why the rest of my screensavers display properly on my PC minus 3D Pipes and Flying Windows, when I wait they don't show up at all!
by MarianoKaz on March 16, 2023
NOTALGA!
by P1xel lolololololol on March 1, 2023
very nice and nostalgic
by PixelPietro on February 26, 2023
its cool
by luka on February 4, 2023
I grew up with this Screensaver, and I missed it for many years... I am very happy to see it again Ü
by Novak-Mortis on September 18, 2022
O.K.
by derekelly@ rogers.com on August 13, 2022
It's horribly optimized, running quite slowly
by Jihad on April 28, 2022
Great, had it at work, and have always liked it.
by Rick on April 22, 2022
nice
by Name on February 25, 2022
always liked it
by Myran Denham on February 6, 2022
Works great on Windows 11 Pro, just follow 3 very simple install instructions. Well done!
by jrrdw on January 26, 2022
I love this! Are the teapots still in it?
by Jen on November 29, 2021
NICE
by BLEH BLEH BLEH on October 12, 2021
Screen saver works in the preview section of the Screensaver settings but doesn't work normally anyone know a fix? Kinda weird. Otherwise it would be 5/5 if it worked
by Joe on October 12, 2021
It won't open
by Stephanie on July 2, 2021
Love it :) Love the candy cane when "textured" is selected but no texture is chosen. Can go super fast as well :) Excellently done, thank you so much!!
by Jim777 on April 8, 2021
Perfection doesn't have to exist for a 5 star review. Just dont leave reviews if you can't separate the ideal true perfection from 5/5 level satisfaction with a screen saver.
People like you cost hard working customer service workers their meager bonuses. Just dont leave a review.
by That Joe Dirt guy is an idiot on March 16, 2021
i really enjoy this. i got kind of scared when the yellow pipe got really close but then i remembered that it was just a simulation -- that's how realistic it was. it's crazy i highly recommend this.
by marcus nicolois on December 25, 2020
awsome,reminds me 2008
by aldric on November 10, 2020
Won't download
by Alan Davis on October 20, 2020
What can I say, I'm old school and I love this screen saver. Download and install worked great. I am a little disappointed that I haven't seen a teapot yet. Can anyone remind me what the settings are to enable teapots? I'm not sure I've done it right. Tnx
by Hattie on October 14, 2020
good
by a Windows 7 user on October 13, 2020
YO! THIS IS MY DREAM SCREENSAVER! 10/5 STARS, IF YOU WANT A EASTER EGG: SELECT IT, GOTO SETTINGS, TURN ON TEXTURED BUT DONT ADD A TEXTURE, THEN EXIT
by Vouzc on August 28, 2020
I think this screensaver is very nice
by Theo on July 19, 2020
it didn't work. Win 7 kicked me out & it wouldn't load
by marty on July 5, 2020
This is nice! 10/10 I recommend it!
by David on April 19, 2020
i don't like it ..... I LLlLLOOOOoOVVvvEeE IT
by Muhammad Zain Rehman on February 18, 2020
God i really did miss this. i do so love they way the pipes go crazy from the start to the end and mix with other pipes. after all, chaos loves company. although... i had to manually turn it on every time....
by Andrew on February 13, 2020
GR8! I found a Windows 10 Easter Egg! Xmas Pipe Screensaver
by Donnachadh on February 1, 2020
love it
by Jack Grizzell on November 27, 2019
nice
by toy on October 17, 2019
good
by its on October 3, 2019
good
by Jay Schiller on September 28, 2019
Doesn't let me use it as my screensaver, instructions don't work AT ALL.
by Blake Hutchison on August 31, 2019
This is NOT the Windows 98 version of 3D Pipes. This IS the Windows 7 version. The quickest way to tell is to look at the configuration page in the program. the Win98 version has a resolution setting, from coarse to fine. I was supremely disappointed when I lost the Win98 version as it is missing that fine setting.
Screensavers Planet: It's actually the Windows XP version (or Windows 2000, I'm not sure), which is a 32-bit application that can thankfully also be run on modern 64-bit versions of Windows like 7, 8 and 10, whereas the Windows 98 version of the screensaver was a 16-bit application that most of us would not be able to use today.
by Rick R. on June 8, 2019
good
by lucy on May 7, 2019
set the texture to a purple cloud file and it looks nice. would def recommend if you used to watch this back in windows xp era or if you like the neverendingness of the pipes.
works great for windows 7 home basic btw!
by pretty neat on March 23, 2019
every time I see this I hear pyro say "ASOT"
by Cameron Litchenberg on March 19, 2019
Nice! I missed my pipes. It's so nice to have them back. It's a classic. Thanks!
by Arthurne on March 17, 2019
Just like the original, I love it.
by Matthew on March 10, 2019
Thank you so much! Exactly like the original that I miss!!!
by lj on February 28, 2019
Great if the thing worked. downloaded and installed twice but guess win 10 is not having it. sucks.
by Greg on February 24, 2019
Awesome! Just like the original and easy to install and set up as screensaver.
by Lion's Gaze on January 31, 2019
Screensaver Filename: 3D Pipes.scr
VirusTotal: 0
Score: 4 / 5
Tested on: 2019-01-09
Operating System: Windows 10 Pro (full updated)

Perfection does not exist so I put the maximum score is 4/5.
Some of my clients will be happy with this screensaver.
by Joe Dirt on January 9, 2019
Works for me on Windows 10. Just like the old dayz! Thanks
by OldHead on December 10, 2018
I loved having this screensaver as a kid except that its slightly different I'd have given it 5 stars
by trayz on August 29, 2018
it don't work in any windows folder
by Rob on June 21, 2018
So nostalgic XD
And also satisfying
I remember when my mother had had on Win XP pc
I was young and this I remember very well
by Manuel Rumpál on June 13, 2018
Nice remake, would this be the original one I had given 10 stars for this screensaver!
by DG2YGX on April 15, 2018
good, it works. now i have a w98 on w7 :D
by ffff on March 8, 2018
nostalgic but it won't work
by tailzie on February 11, 2018
good
by austin on January 17, 2018
@mantininc Try using the "Print Screen" key on your keyboard
by Bighead on October 2, 2017
Love it. How can I take screen shots of the pipes. they disappear as soon as u move the mouse.
by mantininc on July 21, 2017
NICE
by GHANSHYAM PATIDAR on January 20, 2017
I like it, but for some reason it flickers and blinks. Is it because I use Windows 10? Other than that, it's a great screensaver!
by Fellow User on December 26, 2016
Best.
by Facebook on December 3, 2016
Best screensaver
by I Like on September 17, 2016
Its all right
by JP on September 9, 2016
I remember a version of the 3D Pipes had the "flex" option, but this one does not?
by Stephen on August 14, 2016
Nice cool
by arti on June 19, 2016
Very nice, but on my system (Windows 7 Professional) it doesn't start itself. I selected that it should start after one minute, waited three minutes and nothing happend. If I start it manually it works fine.
by Oleg on May 14, 2016
Superb,works perfect on my Win 7 pro.
by Advent on May 2, 2016
Nice
by Emily on May 1, 2016
This one worked great on both of my computers,1 running Windows 10 and 1 running windows 7 that is running 2 monitors and separate 3-D pipes screensaver windows.
by John Hill on March 27, 2016
omg ive been wondering how to get thing thing forever!! thank you!! but its ironic that the fist time i saw this screensaver was on a mac, lol
by Gr1m reaper1568 on February 12, 2016
NICE
by UDAY on January 28, 2016
Wonderful!
How well I recall the good old days of MS Windows NT.
by Joichi Kawamura on December 1, 2015
Hmm... I downloaded the .zip file and dragged it to my desktop, there I extracted the file but nothing worked? Btw I am using windows 7, and I probably won't remember to check this so DM me on Instagram, @griffni
Screensavers Planet: For a screensaver to be listed in the Screen Saver Settings panel, you can either right-click the screensaver file where you saved it and select "Install", or move the file to the Windows folder on your hard drive (usually C:\Windows). Right-clicking the screensaver file and selecting "Install" has the added benefit that it will automatically open the Screen Saver Settings panel, so you could try that even after moving the file to your Windows folder.
by Instagram @griffni on November 6, 2015
Does anyone know if this version has the teapots
Screensavers Planet: To the best of our knowledge, this is the Windows 98 version of the 3D Pipes screensaver, and only the Windows 2000 version contained the teapot easter eggs. Unfortunately, Microsoft allegedly has a 'no Easter Eggs' policy now.
by burg0823 on October 29, 2015
flickers very badly. doesn't run smoothly.
by Jeff on September 21, 2015
I like the screensaver, only that it is not usable in windows 10. It flickers like hell.
Screensavers Planet: Unfortunately, there have been many complaints about flickering on Windows 10 for all kinds of full-screen programs, including games and screensavers. Please try updating your graphics drivers to the latest version.
by WOW on September 5, 2015
Love it, but does not work properly on windows 10.
by Richard on September 5, 2015
Great memories!
by Dr. Anonymous on September 3, 2015
Not working properly on Windows 10, it flickers and its annoying. However, didn't have any problems with Windows 8.
by Francisco on August 30, 2015
Best screensaver ever. Used to have it back in the day on my windows XP, and now I can have it everywhere!
by takabuschik on August 18, 2015
Write a review