3D Maze
The classic 3D maze screensaver that shipped with Windows '95 and '98. It randomly moves through a maze with red brick walls, running into various obstacles, each with its own effect on the route, as it searches for the exit. If this screensaver does not render properly, try disabling full-screen mode via the settings menu, then set the Size slider to "Max".

Free

0.23 MB

for

Windows

97,479
Download
Screenshots
Video preview
Files
Anti-virus
Help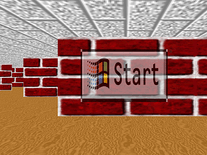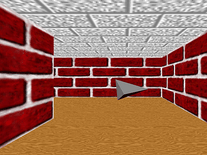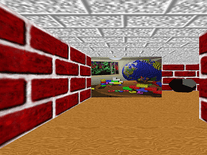 Message board
Is your question not listed? Post it on our message board »
Installation instructions
Microsoft Windows
Open the 3D_Maze.zip archive file and extract the 3D Maze screensaver file to your Windows folder.
To make sure Windows will recognize it, locate the screensaver file in the Windows folder, then right-click it and select "Install".
Open the Screen Saver Settings panel. "3D Maze" should now be visible in the list of screensavers.
Anti-virus report for 3D Maze
Our editors have reviewed all files and found them to be safe, but they are also checked automatically using many different virus scanners. We are happy to share the results.
| Virus scanner | ssmaze.zip |
| --- | --- |
| AVG | |
| Avast | |
| Avira | |
| BitDefender | |
| ClamAV | |
| ESET-NOD32 | |
| F-Secure | |
| Kaspersky | |
| Malwarebytes | |
| McAfee | |
| Microsoft | |
| Panda | |
| Symantec | |
| TrendMicro | |
| Last scanned | 3 weeks ago |
We have 1 file for "3D Maze"
ssmaze.zip (Windows)
File report #1
File name
ssmaze.zip
Target system
Microsoft Windows
File size
239.49 kB (245,240 bytes)
File type
ZIP archive
Anti-virus
Detection ratio
0/14 (0%) View report
Popularity
Total downloads
97,479
Last downloaded
2 minutes ago
File verification
MD5
6c84a156a8abc389b5fb99ee0f404fcb
SHA1
b43b55f5c942b27713c88101809e8a8749862307
SHA256
46834e5b2d728f187c94283acb0287d93f05152c665e4cc33301a64ecba29fd3
User reviews (94)
Its awsome
by Zaden on September 24, 2023
this like old game but still cool
by Max on September 21, 2023
gud
by goofy ahh on September 16, 2023
Is there a way to add custom images?
by carson on September 15, 2023
MEMORIES!!!!!! amazing, not gonna use as default as it changes my resolution and if it turns off pc automatically for inactivity it keeps the screensaver resolution, but i recommend it
by Friday on September 14, 2023
its cool!
by jordan on September 11, 2023
Good
by Damien on September 8, 2023
Cool. Looks like a game that would go on the N64.
by Ezra on September 6, 2023
to good
by grace M capati on September 3, 2023
BORING, VERY ANNOYING
by CHARLIe on August 29, 2023
why does it say its invalid when i try to change the texures
by oakboi on August 8, 2023
Its really cool, but every time i try to change the texture, it says its not valid, i know it needs to be in a bmp file, but what size does it need to be set to?
by Eye on August 3, 2023
Gave me nostalgia
by carter28 on August 1, 2023
epic
by finn on July 8, 2023
failed. Win 7, not loading, not in folder, not working, slowing down system, cant leave google page, waited 2 days still broken
by failed on June 30, 2023
failed
by 0000 on June 30, 2023
its a cool screensaver
by Robben Dabank on May 15, 2023
Cannot change speed and aspect ratio but i still loev it
by ehow on April 10, 2023
i love tis i love da silly liittle rats :D
by aiden on March 19, 2023
This screen saver is so cool, I rate it 10 brick walls / 10 rocks that flip you upside down
by Laken on March 15, 2023
i like this
by someone on March 15, 2023
rat is da best
by on March 10, 2023
is there a reson that there is no control of what your doing i wish i could control the screen but its the best
by ewan on March 5, 2023
To be honest this is cool but i dont know how to change it
by Hasta on March 1, 2023
nice
by daniel on March 1, 2023
It doesn't work, I have Windows 11.
by Anonymous on February 28, 2023
i can now make a bingus maze screen saver
by bingus on February 28, 2023
i love it
by something on February 27, 2023
if it's glitchy, its because you are moving your mouse, how this works that. screensavers are things that happen when you are away from your computer, it plays it if you are inactive, so to make this work, start it up, and dont move your mouse, move your mouse if you want to stop the screensaver.
by engineer on February 27, 2023
its glitchy and won't work
by frederick on February 26, 2023
Perfection
by The silly on February 26, 2023
amzing
by julian on February 13, 2023
good
by someone on January 3, 2023
Infancia, no sabia que existiria el internet.
by G. Bam on November 29, 2022
Its good but it keeps crashing after 2 minutes
by Å̶͇͚̝͉̙͠l̶͋̿̓̆͝ on November 8, 2022
just "wow".
by Arslan on April 24, 2022
Exact screensaver from windows 95 which is perfect, but on modern systems its way too fast... a setting to change the speed would be nice
by Someone on April 23, 2022
when i open it closed by itself
by areyougood on April 1, 2022
A Classic, 999/10
by Ing Chen Andy on March 25, 2022
Big classic. I'm Glad it's around like many others but don't touch my computer.
by Jeff on February 27, 2022
Thank you for the screensavers, the lattice and 3d maze works good in windows 10 more than likely because of opengl that is how i found the web site. Opengl works better for windows 10 as far as i can see.
by Martie on February 13, 2022
Smart
by Anna Ziyayeva on November 11, 2021
A good screensaver! I have installed on Windows 10 Professional (64-bit version). The screensaver works well!
by Aleksey Ivanov on August 5, 2021
There is a version that does work properly on Windows Vista, 7, 8 and 10. It is the version that shipped with Windows NT 4.0. I believe Windows 95 version 2 had that same version? But for whatever reason, the ones from 98, 2000, and Millennium do not load the textures properly. I posted a link to it on this video. To this day I still use this screensaver. It's my favorite.
https://www.youtube.com/watch?v=s1m-4EnKdCw
by JUSXTREME96 on April 9, 2021
Very cool! Takes me back to my first computer back in the 90s. Acer 56kb RAM and 4 mb hard drive running Windows 95. Dial up modem. I can almost still hear the screeching sound when it was connecting! I quickly taught myself to bypass the Acer browser and functions and use Windows directly. I played with screen savers all the time. Back then they were needed to "save your screen" life. I wish I could find the old Budweiser Frogs screensaver again- that was my favorite, but trademark laws have made it unavailable.
by Woods on April 8, 2021
I love it! Thank you!!!!
by Russ on March 13, 2021
Honestly, great screensaver, reminds me of my childhood, before I personally scrapped our old Windows, er, was it 97 or 98, I can't remember, but either way I personally scrapped it when we got our Windows XP, so, yay! Only one problem persists, the wall texture is constantly swapped in and out with the roof texture, so much so that the roof texture is more common on the walls than the actual wall texture. Oh well, still fun, and hoping for an update that will fix that little glitch. Anyways, gotta go, Rockatoa, Brickticks out!
by Brickticks on March 1, 2021
Still works as intended! Even 16:9 support, I never expected that. Only issue is that the wall texture kind of blends in with the ceiling, but that can be fixed by setting the roof texture to the wall texture.
by Poochy on February 28, 2021
That Still works! It changes the wall texture somehow.
by Abran DRozario on February 26, 2021
Classic!
I have fond memories of making custom skins as a kid, thinking I was a hacker :)
by Ben on January 31, 2021
epic
by jrpgfan63 on January 24, 2021
sick
by kirk on January 10, 2021
I totally love Rainbows!!
Thank you
by Stevenalex on October 6, 2020
The brick texture isn't loading in.
by The brick texture on August 9, 2020
I Finally caught it! I FINALLY GOT HIM!
by Abran DRozario on July 16, 2020
hahahahah it's very funny
by Bruno on May 24, 2020
Reminds me of the good old days, but the textures are wonky.
by Elizabeth on February 15, 2020
I noticed that the Screensaver is powered by OpenGL, not Direct3D, as the original one was, back in Windows 95/98. Still great Nostalgia, tho.
by Claire Azincourt on January 8, 2020
Its main failure is no speed control.
The faster your computer the faster it runs.
Never has had a speed control.
by Sharky on November 11, 2019
Good
by Kishore on June 28, 2019
? does it work like the original maze? i remember being able to actually play it like it was literally a game
by skyeler on May 11, 2019
cool!!!!!!!!!!!!!!!!!!!!!!!!
by screenrater360 on February 7, 2019
I tried it from Windows 3.11 to Windows 10. All worked (except versions prior to Windows 95). It worked for my native OS too (Windows 7 nightly build). Other versions are tested in VMWare and Virtualbox. Woot!

UPDATE:The SCR is hard to install if you don't know. Step 1: Extract the file from the zip Step 2: Right click and press install. DONE.
by Mr. Test on January 21, 2019
This is great. My grandparents had a Windows 98, and it had this on it. My windows 7 Starter has a really bad selection of screen savers.
by Felix on January 12, 2019
It is great, great memories :)
To install this just put it in C:\Windows\System32
not a subfolder, just put it into System32
this works for all .scr scrennsavers
bless you
by Windows on October 19, 2018
Its too fast!
by TooFast on September 21, 2018
YEEEEEESSSSSSSSSS!!!!! How I missed this... trippy version, of course!
Thank you! Working nicely on Windows 10. Just really wish I could slooow it doooown. Even too fast, it's a pleasure to have back. <3
by Becky Byrd on September 14, 2018
Is it bad that I'm way too amused by this really old screen saver.
by Kor'vas on August 23, 2018
I think it is great, but is there a way to slow down the speed?
by Esteban on July 24, 2018
It worked. Copy and paste only in C: \ Windows \ system32
by SkyBot on May 27, 2018
Working on windows 8.1 thx
by Kacper on March 12, 2018
Windows 10: didn't work.
by Preston on March 3, 2018
This is awesome! it was super easy to install.
by Doll on February 17, 2018
How to install in win7 ?
by Marc Dacascos on November 3, 2017
thank :)
by w.a. on October 23, 2017
Very nice. Can the speed be changed?
by Steve on September 15, 2017
I used to play around with this and the other old school screen savers back in first grade with my friends and we thought we were so cool, this is awesome!
by Delan on August 12, 2017
I get the brown rat too, Cooliokid, don't worry.
by Person on July 23, 2017
Every time I see the brown rat, I shake up. Is the brown rat a glitch or is it supposed to be there?
by Cooliokid 956 on May 6, 2017
This was one of my faves from old school Windows, long before High Definition meant anything.
by Amyrakunejo on April 16, 2017
completely beautiful and fully functional. would recommend any of the screensavers on this site as theyre virus-free and functional
by Giu on March 19, 2017
I'm still having the texture glitch problem even after disabling Fullscreen. I'm on Windows 10 with two monitors. I also thought I remembered there being a speed setting on the original screensaver. It moves very fast and it would be nice if I could slow it down a bit.
by Cori on February 9, 2017
AWESOME!
by joseph on December 12, 2016
The best Windows maze for survive! Maze Win98!😃
by Alex F. on December 4, 2016
Brick texture hadn't loaded so it was just the stone texture with sometimes brick
by ravendawn on November 17, 2016
the windows screen saver is very good .
by Ivan1234 on August 10, 2016
Sometimes the walls will glitch up and fuse with the ceiling unless changed to one of those color-changing fractal patterns. Also, if the brown rat is near one of those floating OpenGL logos, the logo itself can glitch and turn into a larger version of the brown rat for a brief period (less than a second) before turning back into its true form. Even with all of these glitches, it sure brings back memories!
by Gii on July 2, 2016
I'm using windows 10, and I don't understand the Instructions
by Christopher Sneider on May 27, 2016
Didn't render properly at first but started working well after following the instructions!
by emedi on May 20, 2016
Great screensaver!
Some issues with the maze settings.
by unknown on March 20, 2016
It's pretty great, though there are some graphical glitches at least for Windows 7 - some textures for the start, special walls and objects, and the walls will glitch out in random ways. The most common one is the ceiling texture overlapping the wall textures, though you can bypass that with any of the animated psychedelic textures used for the ceiling. Regardless, it runs fine and provides a hefty amount of nostalgia for me along with the other classics. I love it.
by Daniel Flores on March 5, 2016
It´s VERY buggy walls have same texture as roof
Screensavers Planet: Try disabling full-screen mode via the Settings panel, then slide the "Size" setting to "Max", as noted in the screensaver description above.
by Slimik on February 4, 2016
I remember this from the first computer I ever owned and loved following it. I think it's a great screen saver. I will rate this based on previous usage.
by Patricia Parker on September 10, 2015
Write a review