Fliqlo Flip Clock
A flip clock screensaver for Windows and Mac OS X that tells the time against a black background in either a 12-hour or 24-hour format. Along with the format, the size of the old-fashioned flip clock can also be customized, from 25% to 125% of the original size.

Free

0.12-4.52 MB


for

Windows

,

Mac

180,874
Download
Screenshots
Video preview
Files
Anti-virus
Help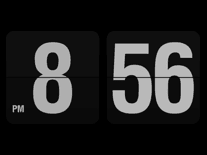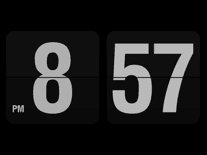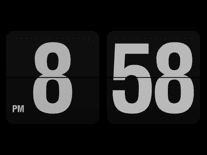 Message board
Is your question not listed? Post it on our message board »
Anti-virus report for Fliqlo Flip Clock
Our editors have reviewed all files and found them to be safe, but they are also checked automatically using many different virus scanners. We are happy to share the results.
| Virus scanner | 314-Fliqlo Setup.exe | fliqlo_171.dmg |
| --- | --- | --- |
| ALYac | | |
| AVG | | |
| AVware | | |
| Ad-Aware | | |
| AegisLab | | |
| AhnLab-V3 | | |
| Alibaba | | |
| Antiy-AVL | | |
| Arcabit | | |
| Avast | | |
| Avast-Mobile | | |
| Avira | | |
| Babable | | |
| Baidu | | |
| BitDefender | | |
| Bkav | | |
| CAT-QuickHeal | | |
| CMC | | |
| ClamAV | | |
| Comodo | | |
| Cylance | | |
| Cyren | | |
| DrWeb | | |
| ESET-NOD32 | | |
| Emsisoft | | |
| Endgame | | |
| F-Prot | | |
| F-Secure | | |
| Fortinet | | |
| GData | | |
| Ikarus | | |
| Invincea | | |
| Jiangmin | | |
| K7AntiVirus | | |
| K7GW | | |
| Kaspersky | | |
| Kingsoft | | |
| MAX | | |
| Malwarebytes | | |
| McAfee | | |
| McAfee-GW-Edition | | |
| MicroWorld-eScan | | |
| Microsoft | | |
| NANO-Antivirus | | |
| Paloalto | | |
| Panda | | |
| Qihoo-360 | | |
| Rising | | |
| SUPERAntiSpyware | | |
| SentinelOne | | |
| Sophos | | |
| Symantec | | |
| Tencent | | |
| TheHacker | | |
| TotalDefense | | |
| TrendMicro | | |
| TrendMicro-HouseCall | | |
| VBA32 | | |
| VIPRE | | |
| ViRobot | | |
| Webroot | | |
| Yandex | | |
| Zillya | | |
| ZoneAlarm | | |
| Zoner | | |
| eGambit | | |
| nProtect | | |
| Last scanned | 3 days ago | 1 week ago |
We have 2 files for "Fliqlo Flip Clock"
314-Fliqlo Setup.exe (Windows)
fliqlo_171.dmg (Mac)
File report #1
File name
314-Fliqlo Setup.exe
Target system
Microsoft Windows
File size
4.52 MB (4,741,323 bytes)
File type
Portable Executable (EXE)
Anti-virus
Detection ratio
0/66 (0%) View report
Popularity
Total downloads
115,034
Last downloaded
6 minutes ago
File verification
MD5
8630d93fa5297eb76e0f9099abc220da
SHA1
4c05d4745137c7b8e2ca304f3e2d5a80ca4dc581
SHA256
0d38c697e869451a96ade9d5c7be28464c93562e906055d6b7960e7f12a87180
File report #2
File name
fliqlo_171.dmg
Target system
Apple Mac
File size
2.59 MB (2,714,129 bytes)
File type
Apple Disk Image (DMG)
Anti-virus
Detection ratio
0/60 (0%) View report
Popularity
Total downloads
65,840
Last downloaded
55 minutes ago
File verification
MD5
cd82c51b9da38def92c1c63b03bc288c
SHA1
cad2ee0d297a8926b6127848e8f5dfca8326b0f1
SHA256
06896669fe0ba54df2b6f89c069c08afe97237240a8c54b834198b86b7d15ac3
Editor's review
A useful and fashionable retro clock screensaver
January 18, 2015
This flip-clock screensaver comes courtesy of Yuji Adachi, a Japanese developer who also creates and publishes other free goodies besides screensavers, such as fonts, apps, icon sets and desktop wallpapers. The Fliqlo screensaver, however, appears to be one of his most popular projects, and it's still actively developed. An iOS app version of the screensaver for iPhone and iPad was recently released, and is now available in the App Store for $0.99.
The premise of this screensaver is simple: it turns your screen into an old-fashioned flip-clock that looks much like the electromechanical alarm clocks invented in the mid-twentieth century. These clocks quickly grew in popularity due to their simple but elegant design, displaying the time in large white numerals against a black background. The fun and beauty of this screensaver is that it can effectively turn any Windows or Mac OS X computer into such an elegant and useful clock. The bigger the screen, the bigger the clock.
Some options available to this screensaver, that the original flip clocks did not possess, include the ability to switch between a 12 and a 24-hour format. Furthermore, the size of the clock can be adjusted on a scale of 25% to 125%. These settings can be reset at any time.
The only disadvantage we could find is that it requires the Adobe Flash Player plug-in. However, since this is a safe and free download, and most people will already have it installed on their computer, it shouldn't really be an obstacle.
All things considered, the Fliqlo Flip Clock screensaver is a well-designed and functional screensaver that can be both useful and fashionable in your home or office.
Happily, it's available both for Windows and Mac OS X.
User reviews (58)
Really great screensaver, but after a few minutes the clock disappears. Is there any fix to this on windows 10?
by Tiffany on May 14, 2018
Love the big clock.... but after a few minutes the clock disappears and all there is ..is a black screen. How to keep the clock on all the time?
by Norm Gregory on May 5, 2018
its super cool !!1
by jayda on March 11, 2018
pretty good
by Demyan on February 6, 2018
this is the best screensaver i've seen in a long time. it redefines brilliance in simplicity.
by rick langston on December 24, 2017
its so good
by pertti-eräreikä on July 10, 2017
a simple but very good retro clock
by jim on July 9, 2017
When I downloaded the screensaver, it was a different font than the pictures displayed. I checked with my sister, because she has the clock I wanted and it was the exact same download (same numbers and year), but mine is not block letters.
by Hannah St. Clair on June 27, 2017
Love the Screen Saver!!! But wheres the sound of the numbers flipping? i want the flip sounds to make it seem as real as possible!!! Thanks!!!
by ThunderBoyDavid on June 20, 2017
Simple and nice looking screen saver. Running on a few Windows 10 computers.
A concern that I have is ... I copied the 314-Fliqlo Setup.exe (Windows) file to my Google Drive for safe keeping. When I try to download that file from my Google drive to any other computer, Google blocks the download and states that a virus was detected.
Screensavers Planet: Thanks for reporting that! I suspect they use ClamAV, among other programs, to scan files for viruses, and ClamAV raises a flag for the file. I have submitted a false positive report to ClamAV and expect the file to be cleared soon.
by Sam on May 11, 2017
Installed the screensaver on my Win-Vista system today, love the retro look. Works well as is but when I enter "settings" for screensaver it brings up a flash window which allows me to make changes (24hr, 125%) but does not save them when I exit. It shows a "reset" button but no "save" button, so I'm assuming it is supposed to be automatic upon closing. Any suggestions?
Screensavers Planet: It appears to be an issue with Vista and the latest version of Fliqlo. See this thread on our message board: Adjusting Flip Clock screensaver
by Janissarius on April 17, 2017
Our school uses this as a clock in the ITV studio, and broadcasts it all day long in all the classrooms on their TVs. Teachers will panic if someone bumps the computer and the clock goes out.
by Natalie on February 27, 2017
I love this screen saver, it's great but I can't get it to stay on 24 clock mode, even though I chose that setting on preferences - any ideas ?
by Jackie on February 12, 2017
Great screensaver. But after an update i was unable to show 24h time. Too bad!
by Lasse on February 2, 2017
the screensaver is dope but now i have weird pop ups / notifications that appear asking me to download more stuff and i don't know how to get rid of them. probably will have to delete just based on that.
Screensavers Planet: That is unlikely to be a direct result of installing this screensaver. Feel free to post any questions or concerns to the message board.
by mm on January 18, 2017
Great
by Parvez on January 2, 2017
I really like it. It's not bright or over complicated. I use it on my laptop that sits on my night stand. It's nice for me, because I wear glasses.. So when I am sleeping. I can just look over, without fumbling for my glasses or trying to find my phone, and know what time it is.
My BIGGEST petpeeve with this. I use 24 hour time. I am always waking up at different times, so it's MUCH easier for me to glance over, look at the clock. Cool. 900.. It's 9am... 2100.. cool. It's 9pm.. This thing has a habit of RANDOMLY switching BACK to 12 hour time COMPLETELY ON IT'S OWN. This has almost made me late to things MORE THAN ONCE! VERY frustrating!
by Jeremy on December 23, 2016
I like this screensaver, I installed it and immediately three of my coworkers installed it also. Looks great!
by Meskinbolt on December 21, 2016
Not working with the latest version of MacOS at the beginning-- But later it is working amazing!!! Thanks and sorry for previous message.
Screensavers Planet: We recently tested it on macOS Sierra 10.12.1, and it worked just fine. Please post to the message board with details of your problem.
by FW on December 11, 2016
Sick
by Erik on December 3, 2016
I saw it on a shabby to sheek decor site offon the designers computer in a small space renovation...LOVED @ first sight.... Good to be a kid in simplier times and even better to be a big kid and combine the two! Thanks for this great functional screen saver!
by samantha s. on November 15, 2016
I have the new MacBook Pro with Retina running on macOS Sierra 10.12.1 and this isn't working. Any suggestions I tried the right clicking method and opening it through there and saving it onto my desktop.
Screensavers Planet: First open the .dmg file you downloaded to bring up a window where three files will be shown. Right-click the "Fliqlo.saver" file, choose "Open", then click "OK". Failing that, please post to the message board for support.
by Vanessa on November 12, 2016
Very useful
by Ranji on November 10, 2016
Great
by Dmytro on October 5, 2016
Had it for about 6 months on my Mac that was running OS X Yosemite and it worked wonderfully. Recently updated to OS X EI Captain and it said it doesn't run on this software.. Had to reinstall and it works perfectly again. Never had a problem with this screensaver and looks lovely. 10/10
by on August 6, 2016
Be aware, this screensaver tries to connect to the internet.
Screensavers Planet: It connects to the internet to notify you of available updates.
by Tester on June 8, 2016
Mine only works when my laptop is charging or plugged in... Is this normal?
by Bianca on June 7, 2016
I do love this screen saver, and have been using it for ages, however I recently got another monitor, so that I can have two screens when working. When I use just my monitor with the laptop closed, then this screen saver works fine, however when I use both screens, it is off centre and too large on my extra monitor. Some sort of settings that could be changed for multiple monitors would make this screensaver even more awesome :)
by victoria on May 30, 2016
This screensaver uses my i5 processor at 50 % !!!
Why?
by Niko1007 on April 23, 2016
I can't make it apear on my screen saver because it says I can only use them if they are downloaded in app store
Screensavers Planet: Right-click the Fliqlo.saver file and choose "Open". You should then be able to click "Open" again to install the screensaver.
by a on April 17, 2016
This is the best screensaver that ever saved my screen. Seriously, I love it. Works perfectly in my Windows 10
by Kelly on April 16, 2016
awesome!
by brenda on April 12, 2016
This unfortunately doesn't work with my current operating system. Is it possible to make an older version?
Screensavers Planet: An older version of Fliqlo for Mac can be downloaded here.
by Mira on April 4, 2016
i went into display settings and found fliqlo there. it was extremely easy to adjust the timeout period as with any other screensaver. so 5 stars. dig it. a LOT.
by elizabeth - update on March 26, 2016
Can i use it on iPhone locked screen or i must run app everytime?
Screensavers Planet: This screensaver is not compatible with iOS devices such as the iPhone and iPad, only with computers running Apple OS X or Microsoft Windows. However, a similar app for your iPhone may be available in the App Store.
by Adam on February 12, 2016
i love this screensaver!!
But sinds about a week there is only a white screen :-(
hope bug (windows 10) will be fixed soon!
Screensavers Planet: An update should now be available to fix this problem for Windows 10. The update is numbered 3133431. It should automatically install, but if you want to speed it up you can open Windows Update and search for new updates.
by Sammie says on January 6, 2016
I've been using this screensaver and I loved it, untill, like others have said, it randomly stopped working and only shows a white screen...
by Juul on January 3, 2016
There was a security update to Internet Explorer Flash Player today. I uninstalled the update and now Fliqlo is working again.
Screensavers Planet: We have dedicated a help page to this issue. For more information, please see: I get a white screen when my screensaver runs?
by Vernon on December 30, 2015
I've been using this screensaver for year (on Windows), and like others have said, today it randomly stopped working and only shows a white screen. Tried restart and uninstall/reinstall with no luck. I loved it until it stopped working today.
by ina_C on December 30, 2015
We've used this screen saver for years...it stopped today. Does anyone have a fix?
by David and Jeanne Risser on December 30, 2015
Check your installed programs. It looks like Adobe downloaded a flash player update today. That must be what killed any screensaver using flash.
by Jerry L on December 30, 2015
My Screensaver also randomly started showing a white screen, has been fine for at least 2-3 years!
by Joe Williams on December 29, 2015
my screen went white also today. whats up with that!
by david m on December 29, 2015
I'm also getting the white screen today. Stopped working out of the blue. Anyone figure out why?
by Steven on December 29, 2015
I've had this screen saver for years and absolutely loved it. I wake up this morning to find that the screen saver doesn't show a clock anymore...just a white blank screen. I restarted the computer and it didn't help. Uninstalled fliqlo and reinstalled and no luck. Even downloaded the newest version and it still just shows a white screen. Not happy right now.
by Jerome on December 29, 2015
the best one
by mn on December 18, 2015
it didn't work for me i tried it so many times and it downloaded but when i select it to use it as a wallpaper it doesn't
Screensavers Planet: That won't work because this is a screensaver, not a wallpaper. See our help article Screensavers and wallpaper: what's the difference?
by Olivia on December 8, 2015
Seems OK so far. Installed easy enough.
by Chattapoppy on November 7, 2015
Is this only good for ipad and iphone? I wanted to use for my MacBook Pro.
Screensavers Planet: This screensaver will not work on mobile devices such as the iPhone or iPad, only on computers running Mac OS X or Windows.
by Carly on October 25, 2015
I tried downloading this screensaver but it says my mac doesn't support this version and to contact the supplier.. does anyone know how to fix this?
Screensavers Planet: This download should support Mac OS X 10.8 and newer. If you have an older version of the operating system, please try searching for an older version of the screensaver, e.g. Fliqlo 1.4, 1.3, and so on until you find one that works.
by Chris on October 21, 2015
YAY love it!
by kittykat on September 21, 2015
Great!
by Rob on September 13, 2015
amazing!
by raquel on August 26, 2015
Very simple and useful. I love it.
One thing... It is a bit too bright at night for me. It would be nice if it had brightness control. I adjust the size to small to make it less bright.
by Tama on August 24, 2015
Very relaxing
by ernie on August 17, 2015
I love it. Few more options would be amazing. (Multiple Monitors can each have own clock size etc).
by Aaron on August 13, 2015
good
by mia on April 8, 2015
Write a review