HAL 9000 Console Basic
The Basic Edition of the HAL 9000 (Console) screensaver features 28 separate animations and runs as a re-recreation of the eight-screen HAL 9000 console from the movie 2001: A Space Odyssey. In this film by Stanley Kubrick, as well as the series by writer Arthur C. Clarke, HAL 9000 is an artificially intelligent computer that can interact with the crew and control the systems of the Discovery One spacecraft. No music or sound effects are included.

Free

0.82-4.85 MB


for

Windows

,

Mac

28,251
Download
Screenshots
Files
Anti-virus
Help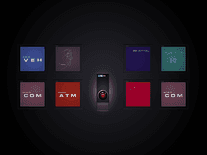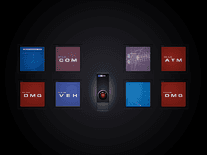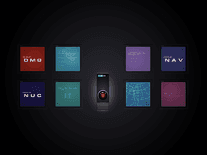 Message board
Is your question not listed? Post it on our message board »
Installation instructions
Microsoft Windows
Double-click the file you downloaded to launch the installer program.
If you accept the end-user license agreement for this screensaver, click "OK and Install".
If you are notified that the screensaver already exists, simply click "OK".
Once the installation has completed, you will be asked whether or not you want to have the screen saver settings panel opened. Click "Yes" to open it. The "HAL 9000 [Console] Basic" screensaver should appear among your other screensavers.
The installer has also opened a "README" document containing installation notes and information on known issues and the author. Feel free to close this document when the installation has completed successfully.
Apple Mac OS X
Double-click the file you downloaded to extract the application from the ZIP archive.
In the folder where the ZIP archive was downloaded to (usually: Downloads), double-click the "HAL 9000 [Console] Basic" application to start the install program.
Click "Continue" twice in a row, then check "I accept" if you agree to the end-user license agreement and click "Continue" again. Finally, click "Install".
When the screensaver was successfully installed, click "Quit" to exit the installer.
The Screen Saver panel will be opened, where "HAL 9000 [Console] Basic" should be listed among your other screensavers.
Anti-virus report for HAL 9000 Console Basic
Our editors have reviewed all files and found them to be safe, but they are also checked automatically using many different virus scanners. We are happy to share the results.
| Virus scanner | Hal9000ConsoleBasicInstall.exe | HAL 9000 [Console] Basic.zip |
| --- | --- | --- |
| AVG | | |
| Avast | | |
| Avira | | |
| BitDefender | | |
| ClamAV | | |
| ESET-NOD32 | | |
| F-Secure | | |
| Kaspersky | | |
| Malwarebytes | | |
| McAfee | | |
| Microsoft | | |
| Panda | | |
| Symantec | | |
| TrendMicro | | |
| Webroot | | |
| Last scanned | 1 week ago | 2 weeks ago |
We have 2 files for "HAL 9000 Console Basic"
Hal9000ConsoleBasicInstall.exe (Windows)
HAL 9000 [Console] Basic.zip (Mac)
File report #1
File name
Hal9000ConsoleBasicInstall.exe
Target system
Microsoft Windows
File size
4.85 MB (5,083,129 bytes)
File type
Portable Executable (EXE)
Anti-virus
Detection ratio
0/15 (0%) View report
Popularity
Total downloads
22,407
Last downloaded
2 hours ago
File verification
MD5
e0fd7f3ace0c2ba25bdba8e54f8aa097
SHA1
ba8875badd7d2c6ea4551d9e14729cb602bf6ba2
SHA256
ad398e3d31e65b5743dfba04bacaa36bd10d26c7aa7c4df834c7fd480ed4959c
File report #2
File name
HAL 9000 [Console] Basic.zip
Target system
Apple Mac
File size
838.93 kB (859,064 bytes)
File type
ZIP archive
Anti-virus
Detection ratio
0/15 (0%) View report
Popularity
Total downloads
5,844
Last downloaded
3 days ago
File verification
MD5
e2fcac00ffb1cdece7be051c89583af2
SHA1
a8a0c23a1690313daa173c08f3b17ecee2e0bd0d
SHA256
19c8e731d5c92ce2ef726aeecd408fff734878d2505202055e0d562da1323219
User reviews (32)
I'm the creator of this HAL 9000 screensaver and have just released a remastered 4K version over on YouTube, check it out at halproject.com
by Joe on September 25, 2021
do you have new version for mac os 10.10.5 and up?
by marc on July 31, 2021
FANTASTIC,ONCE I GOT THINGS FIXED,GREAT
by RONALD E. ANDERSON on June 23, 2021
Excellent, I have it running on High Sierra using Flashplayer29-mac-debug version. I sometimes have to reinstall but it's worth it. Thanks for the good work.
by Geoff on March 5, 2021
I used this for many many years. all my workstations. at home, at work, my wife computer, my parents. and sudenly 2021... is this end of screensavers both on mac and pc? how to work around? solution plese /// this whitebox app is only on mac, and older versions of os. so its ded end
by ar2 on January 16, 2021
Absolutely loved this screensaver for years. Always got a few comments from my coworkers. Shattered that it has stopped working now that support for Adobe Flash has ended.
by Justin on January 12, 2021
I've loved this screensaver for years. Any chance of it getting updated to work with the MacOS again?
by Kevin on January 7, 2021
It no longer works because of security concerns and the demise of abode flash. But there is a workaround if you install the "white Box" app from savehollywood which turns a video file into a screen saver. Download the video file from youtube, whitebox will run it as a normal screen saver. I used it and it's been working great.
http://s.sudre.free.fr/Software/SaveHollywood/about.html
by Wayne NYC on December 24, 2020
Cool screensaver, however, it doesn't appear that I can uninstall it and it does not work across multiple monitors.
by Omar Quinones on December 8, 2020
It's very nice and useful on Windows 10!
by Shaunak on September 16, 2020
I like it. What about multiple monitors?
by Thomas on December 18, 2019
The Hal 9000 screensaver installer is not able to detect the AdobeFlash plugin V32 although it is installed.
Is there a fix for this?
by Ricardo Silva on December 5, 2019
A brilliant screensaver, but unfortunately it breaks completely under Catalina for Mac. Hopefully some wise and generous individual will correct this issue and share with us the greatness that is HAL-9000. Normally 5 stars, but until the Catalina problem is resolved it's just 1. :(
by SunGod on November 18, 2019
can't open on macOS High Sierra 10.13.6, not even the advanced version. any fix for this?
by Jim on October 30, 2019
Unfortunately, the Screensaver breaks with the update to macOS 10.15 Catalina. Probably because the Flash plugin it is using might be 32-Bit? Anyone know how to replace the plugin with a 64-Bit version? Or get it to use the latest Flash player? Or how to take the Flash video of the screensaver and repackage it as something that is viable for a 64-Bit only OS?
by HashMaster9000 on October 9, 2019
FYI, I have several versions of the REAL version of this, if anyone knows how to upload files instruct me and it's yours
Screensavers Planet: You can upload files through our Submit a screensaver page.
by Roy on August 16, 2019
Is anyone aware if an advanced version is available in the console format? As one reviewer mentioned, just the 28 animations are terrific, but it would be so much better with the all animations included in the advanced versions.
by Andy Russ on February 25, 2019
Doesn't work on my High Sierra retina screen (just get blank screen).
Shame :(
by Dan on January 21, 2019
Excellent! Captures the look and feel of the HAL Console... sometimes I just sit and watch the many animations on the screens.
by Tim Young on September 28, 2018
The repackaged version works properly on High Sierra, so thanks! But may I add my own request for an updated Advanced version? With multiple monitors the effect is mesmerising.
by Blank Ron on September 25, 2018
Very happy to at least have the Basic screensaver update; any chance on the 4.0 Advanced Version being updated as well? I run multiple monitors and it was a gorgeous thing to see the individual screens on each one.
by Ralph F on August 2, 2018
I love it. I used it to replace an older version on my Mac and this is much faster. I'm using High Sierra too, so I got that version.
by Nuncio Bitis on April 27, 2018
There's an Advanced version of this screensaver which has all the animations full-screen, I think that's what Justin is referring to. If it's possible to repackage these screensavers so they work on High Sierra, is there any chance you could repackage that version too?
by James on March 26, 2018
Hey that new version HCJ uploaded works on Sierra, but I liked the full screen Hal version better. HCJ can you make that one? I love this screensaver!
Screensavers Planet: That was our response to HJC's review, sorry if that was unclear. That version should display full-screen, but it doesn't for you? Please contact us or post to the message board and I'll look into it.
by Justin on January 10, 2018
Does not work on OS X High Sierra.
Screensavers Planet: The High Sierra update for macOS breaks a lot of screensavers, unfortunately. Please try this repackaged version. It should work on High Sierra.
by HCJ on December 7, 2017
I love it. 2001 is my all-time favorite movie. I can pull up music from the movie and then activate the screensaver and it is a gas! That is all I need, man.
by Benny D. on November 3, 2017
Only working on 2 of 3 monitors
by CyberKnight on December 27, 2016
On the original HAL 9000 a small screen would POP UP first and then expand to fill the screen. The nominal displays would be overridden by emergencies or problems. I was hoping for a HAL like system that kept track of the PC housekeeping. A small pop up showing hard drive, network, etc and then if the computer encounters an error it goes to the system screen or SYS showing what is happening.
by William H on September 19, 2016
Looks great, but sometimes it activates and I can't escape it once I'm back at my desk. Maybe this is a bug or perhaps it just thinks I want the pod bay doors open.. five stars if fixed!
by Jordan on May 15, 2016
Love this!! Have had it for several years now & visitors love it too! How much work would it be to port this for 3 or more monitors? It is even possible witout the source code? TNX-
by John Raynor on February 21, 2016
Turns out the Flash update is a known problem. I did a system restore to get rid of the update and downloaded MS's hide and show updates tool.
by Mike H on December 31, 2015
Runs fine on Windows 10, 64-bit machine. There are sometimes duplicated displays on two or more of the eight screens, but generally looks very good.
by Mike H on October 26, 2015
Write a review