How to lock the screen
Sometimes you may want to have your computer immediately go to the Windows lock screen instead of having to wait for your screensaver to come on, for example when you are in a public space or you do not want others using your computer while you are away.
Note that locking your screen is only effective when your user account is password protected. If no password is set up, anyone else with physical access to your computer can simply click your username on the lock screen and access your account and data.
Keyboard shortcut
The easiest way to put up the lock screen is with the keyboard shortcut Windows + L. The Windows key is the key that has the operating system's logo on it, usually depicted as a flag divided into four skewed rectangles, although the exact look can differ as this is determined by the keyboard manufacturer.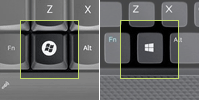 Simply press and hold the Windows key and then press the L key to lock the screen.
Don't have a Windows key? On Windows Vista, 7, 8 and 10, you can also use the keyboard combination Ctrl + Alt + Delete to bring up a menu where you can use your mouse to select "Lock screen".
Need help? Have questions?
We're here to help. Post your question or problem on our message board.
Search the help pages