File can't be opened because it is from an unidentified developer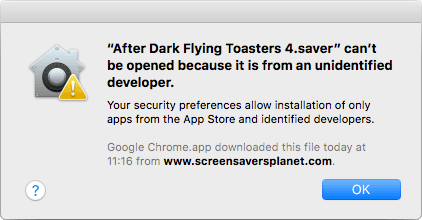 When you download an application like a screensaver from the internet and try to open it on OS X, you may get a warning that the file "can't be opened because it is from an unidentified developer".
This is due to a default security setting which will only allow the installation of apps from the App Store or identified developers. You can only click "OK" to close the window with the warning message, and the app will not be started.
Workarounds
Right-click or Control-click to open
When you click the file you want to open using your right mouse button (instead of double-clicking with the left button), you will see a context menu with several options. One of those is "Open". Clicking that tells the operating system you explicitly want to open this file.
Instead of using your right mouse button, you can also click the file with your left mouse button while holding the Control (ctrl) key to access the same context menu.
You will still get the warning message, but this time you have an extra option to click an "Open" button, which will actually launch the application — bypassing the security setting.
Change security preference
If you want to stop receiving these warning messages, you can change your settings to allow opening apps downloaded from anywhere, not just the App Store or identified developers.
Click the Apple icon at the top left of the screen, then select "System Preferences".
Find "Security & Privacy" among the shortcuts and click it.
With the "General" tab selected, locate the "Allow apps downloaded from" setting, and change it to "Anywhere".

You may need to unlock this setting first by clicking the lock icon at the bottom left of the window and entering your password.

You will be warned that "Choosing 'Anywhere' makes your Mac less secure". Click "Allow From Anywhere" to accept.

Click the lock icon to prevent further changes to your security settings.
Note that this setting will be reset back to "Mac App Store and identified developers" if you have not opened any apps from unidentified developers in a 30 day period.
Need help? Have questions?
We're here to help. Post your question or problem on our message board.
Search the help pages