Where are screensavers stored in Windows?
Whenever you are unable to remove a screensaver from your computer, either via an accompanying uninstall program or via Windows's Add/Remove Software panel, one alternative is to remove the screensaver files directly from your hard drive. To do so, you first have to know into which directory the screensaver was originally installed.
Default folders
There are three folders on your hard drive that Windows will automatically scan for the presence of screensavers:
C:\Windows
C:\Windows\system32
C:\Windows\SysWOW64 (on 64-bit versions of Windows)
Third-party screensavers are often (though not exclusively) installed into one of the above folders. You can sort the files in these folders by type to easily find the screensavers, as illustrated below.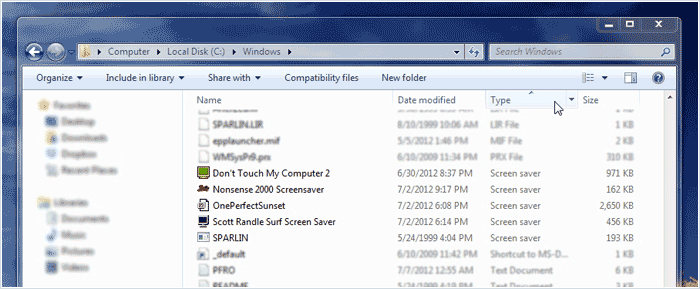 Finding more screensavers
The install program of a screensaver may ask you to select a destination location for the necessary files to be copied to. If this is not one of the above folders, chances are it will create a new one within the "Program Files" folder (C:\Program Files). You can browse through this folder manually, or perform a quick search.
To search your hard drive for screensaver files, follow these instructions:
Click on the Start Menu button at the bottom-left of your screen.
If you are using Windows Vista or newer:
Type "*.scr" (without the quotation marks) where it says "Search programs and files" and press "Enter".
If you are using Windows XP:
Click "Search", then click "All files and folders", and type "*.scr" (without the quotation marks) into the box below "All or part of the file name" and click on the "Search" button.
A list of screensaver files will be returned shortly. To remove a file, right-click on it and select "Delete".
A word of caution
Removing screensaver files manually from your hard drive should only be used as a last resort. It is advisable to first try uninstalling via the Add/Remove Software panel or with the screensaver's own de-installation program.
Further reading