What is a screensaver?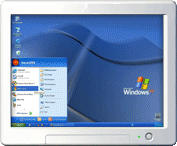 A screensaver is a computer program that replaces and then continually changes the image on your screen after a specified period of inactivity. Initially, when CRT and plasma were the most common display technologies, this was done to prevent any image from burning into the screen. If such computer screens were left to display the same image for a large period of time, this burn-in could create a permanent "ghost image" that would be visible even with the screen turned off.
Modern computer screens use different technologies, such as LCD and TFT, and are not so easily damaged. As a result, screensavers are nowadays used mostly for entertainment purposes. Technically, they no longer save your screen, and so the term "screen saver" has become a bit of a misnomer: the easiest and most effective way to "save" your computer display would be to power it off.
Screensavers come in various shapes and sizes, but are typically designed to be unobtrusive: once you press a key on your keyboard or move your mouse, the screensaver will return you to your unchanged computer system.
Types of screensavers
We generally distinguish between four categories of screensavers: animated, slideshow, interactive and text.
Animated screensavers add life to your screen through moving objects, characters or otherwise;
Slideshow screensavers alternate between images in a set, often using transition effects;
Interactive screensavers allow you to use your mouse or keyboard to interact with the screensaver;
Text screensavers simply display bits of text on the screen, such as quotations, verses or lyrics.
Further reading